China's Haier Nears Deal to Buy GE Appliance Business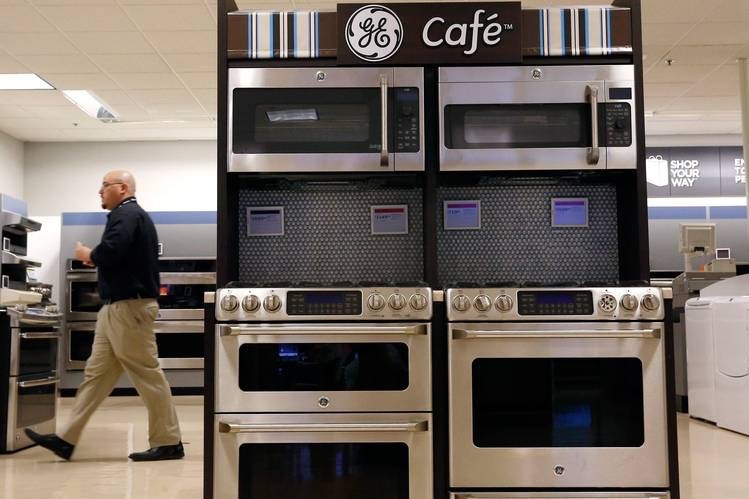 General Electric Co. is near a deal to sell its appliance business to China's Haier Group for more than $4 billion, according to people familiar with the matter, after GE's previous effort to sell the unit for a lower amount was blocked by antitrust regulators.
The Chinese appliance maker outbid other foreign corporate bidders for the Louisville, Ky.-based business, according to one of the people. Two other people familiar with the matter said a deal could be announced as soon as Friday, although as with all deals, timing could slip. ( Update: China's Haier to Buy GE Appliance Business for $5.4 Billion )
GE has been running an auction for the century-old appliance business since it abandoned a $3.3 billion sale to Sweden's Electrolux AB in December. The U.S. Justice Department had sued to block that transaction, saying the combination would hurt competition for cooktops and ranges.
GE declined to comment. Haier didn't respond to a request for comment.
A combination of GE and Electrolux would have united two of the biggest appliance makers and created a company on par with Whirlpool Corp., which has roughly a third of the U.S. market. Haier is a much smaller player in the U.S., so its purchase of the No. 2 player is less likely to raise the same antitrust concerns.
GE has previously told investors that demand for the appliance business has been strong, and that it expected to move quickly to find a new buyer. In seeking a fresh buyer, GE executives wanted "a better deal" than they had gotten from Electrolux, one person familiar with the matter said. GE also stands to receive a $175 million breakup fee from Electrolux.
exiting one of its legacy business lines amid a companywide reorientation by Chief Executive Jeff Immelt, who wants to focus on its high-tech, high value products like power turbines, jet engines and oil-and-gas production equipment. Earlier this week, GE said it would move its headquarters from Fairfield, Conn., to Boston.
GE had tried to sell the unit before the financial crisis but had to pull the sale when markets turned.
Haier has struggled to gain more than a small foothold in the U.S. While it calls itself the biggest appliance maker in terms of unit sales, Haier is mainly known in the U.S. for niche products such as compact refrigerators and window air-conditioning units.
The privately held company also has been expanding its range of products and retail partners in the U.S. Last August, Haier said it would invest $72 million to expand its 15-year-old refrigerator plant in Camden, S.C.
The GE transaction, however, would vault the Chinese company past Electrolux and other rivals in the U.S. market for white goods, which is currently led by Whirlpool. Sales for the GE Appliances and Lighting, of which appliances is the lion's share, were $8.4 billion in 2014.
Haier held talks with GE in 2008 to buy the U.S. firm's appliance unit. In 2010, a Haier executive said the company didn't buy at the time because the price for the unit was too high. Haier also made an unsuccessful bid for Maytag Corp. in 2004, but lost out to Whirlpool.
Credit:WSJ.com, By JOANN S. LUBLIN, DANA MATTIOLI and TED MANN

—Kate Linebaugh contributed to this article.