`Dash for Trash' in Oil Boosts Canada Stocks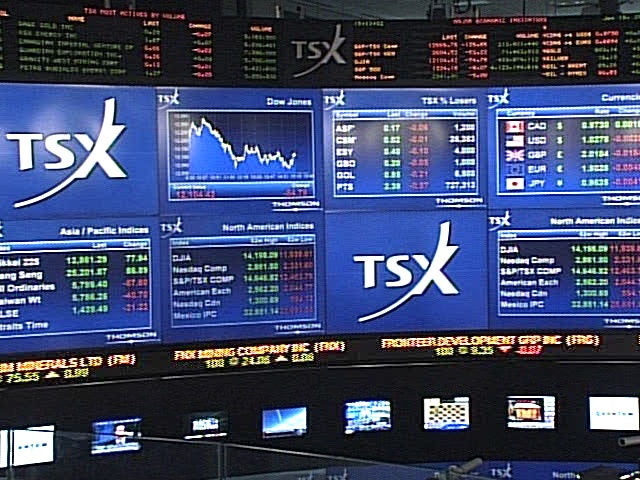 Canadian stocks climbed a fourth day, trimming a monthly drop that sent shares into a bear market earlier this year, as crude prices rose and data showed the resource-rich nation's economy expanded for the first time in three months.
The Standard & Poor's/TSX Composite Index rose 1.8 percent to 12,822.13 at 4 p.m. in Toronto. The index has rallied 8.3 percent since hitting a 2 1/2-year low on Jan. 20. While the benchmark equity gauge posted its first negative January since 2010, the late rally among energy producers has boosted the S&P/TSX's performance to the best among developed markets this year.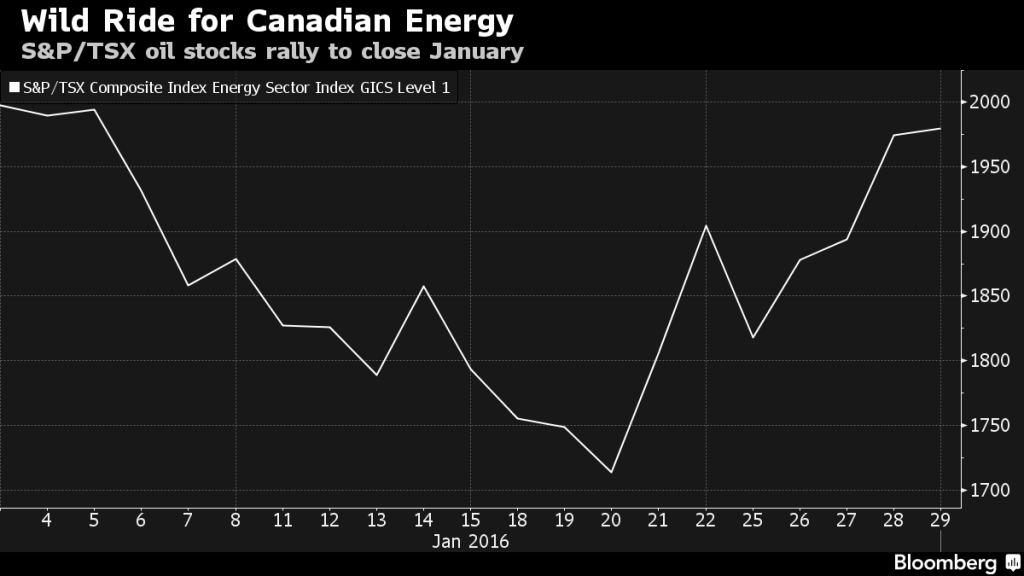 "It's a dash for trash," said John Stephenson, chief executive officer of Stephenson & Co. Capital Management in Toronto. His firm manages about C$50 million. "We've had a few days in a row of rising oil prices and it's disproportionately benefiting Canada. Energy rallies a bit and people buy the energy names, especially the most beat up."
Health-care and raw material companies posted the biggest gains Friday as all 10 groups in the S&P/TSX advanced. Valeant Pharmaceuticals International Inc. jumped 5.3 percent after a two-day rout of 13 percent. Yamana Gold Inc. climbed 7.1 percent as the price of gold advanced.
"There's some good opportunities in the markets today if you're a long-term investor," said Sadiq Adatia, chief investment officer at Sun Life Global Investments in Toronto. His firm manages C$12.3 billion. "In the energy sector, we were buyers last week. There are great opportunities looking out two to three years from now."
Energy shares ended higher in a see-saw day of trading after Alberta left royalty rates unchanged for bitumen, recognizing the "existential threat" the beleaguered industry faces from the U.S. shale boom. The review had initially stirred concerns that costs would rise for producers.
West Texas Intermediate capped a second weekly gain, rising 40 cents to settle at $33.62 a barrel in New York. Futures advanced 4.4 percent this week and has pared declines this year to about 9 percent from a 12-year low of $26.55 on Jan. 20. Oil prices spiked after Russia's Energy Minister Alexander Novak on Thursday said the Organization of Petroleum Exporting Countries and other producers may meet to discuss output.
The broader S&P/TSX remains in the red for January, weighed down by losses among health-care and consumer discretionary stocks. Bombardier Inc., Concordia Healthcare Corp. and auto-parts manufacturer Linamar Corp. have been among the worst performers so far in 2016.
The S&P/TSX joined a global rally Friday after the Bank of Japan surprised investors by adopting a negative interest-rate strategy. The MSCI All-Country World Index advanced 2.1 percent for a second day of gains, to a three-week high.
"Green arrows abound on this last trading day of the month in what has otherwise been a horrible start to the year," David Rosenberg, chief economist and strategist at Gluskin Sheff & Associates Inc. in Toronto, wrote in a note.
A rebound in manufacturing and wholesaling helped Canada's gross domestic product expand by 0.3 percent in November, matching economists' forecasts and indicating the nation is shaking off the damage from a drop in commodity prices.
The S&P/TSX has performed better relative to other benchmarks after having "taken it on the chin" in 2015, when it was one of the worst performers in the developed world, Stephenson said.
"There is a huge amount of pent-up enthusiasm for energy and investors are excited to see a rally," he said.