Hon. Ebo Barton Odro in focus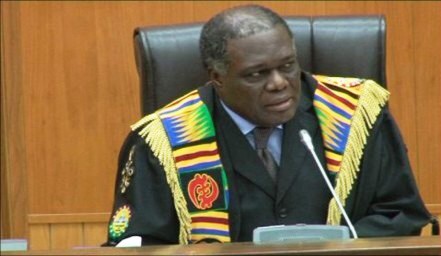 As a writer I bear the  responsibility of always giving the best of introductions to every feature story of mine, but it becomes extremely difficult when you are writing about a man whose achievements go beyond humanity,  beyond a legend and above all a force of nature.
I think I will best describe such a person as the great face of success. Hon. Ebo Barton Odro was born in 1952 at  Saltpond  in the Central Region to an educationist father whom at the time was a teacher, he began his early education at Komenda in the Central Region, and continued  his elementary education at Pusiga close to Bawku in the Upper East Region this was so because  at the time the father had then been transferred to the said area. Due to the level of intelligence of this great personality he sat for the common entrance examamination and successfully gained admission to Mfantsipim Secondary School where he completed with his A" level certificate. This however gained him an admission into the University of Ghana Legon where he completed successfully with a degree in English. He then did his national service   for one year at Mfantsman Girls Secondary School in Cape Coast Central Region. After his service he decided to venture into an area that did surprise lots of people including his father. This was when he enrolled at the Ghana School of Law, because  as a child and a Youngman  he was never  the talkative type so his father  was really   surprised when he said to him that he wanted to enroll into legal arena.  He said he will never forget the question his father asked him at the time. "How can a quiet person like yourself be a lawyer"?    And he replied "sorry dad law is about reasoning and not about noise making".  Eventually he graduated successfully in 1979. Through his legal achievements he now has his own chambers known as Barton and Partners  in Cape Coast which consist of (Solicitors, Barristers and Notary public). Further he has also become one of the credible lawyers this country has ever produced.
The legendary said he has had his own personal challenges in his life despite the fact that he had a successful background, sadly enough losing most of his siblings was a blow to him one that he can never forget, further adding as a result of his siblings death he had to take care of their children which for him at a point in time became very tough but yet he provided for them since he was the only person they had to a father. Meanwhile he was the 5th born out of the 7 children his father had.
On his political carrier he entered into politics through the invitation of the late former President Mills in year 2000 who at the said time   was the then vice president who persuaded him to contest as a parliamentary candidate for Cape Coast Constituency. According to him at the beginning he didn't want to accept because partisan politics was never part of his plans, however he thought through and realized he became a lawyer to help people and that accepting it was going to give him the opportunity to serve people, listen to them, and impact positively on their lives which was in line with his dream of becoming a lawyer to help people and to be the voice of the voiceless. As the story unfolds he accepted on the condition to serve 2 terms of which the then vice president Mills agreed. He then contested    in year 2000 and lost, contested again in 2004 lost again and finally in 2008 he won with a massive victory. Due to his humility, hard work and service to society he won again in 2012 to serve again for the next term which per his agreement with former president Mills will be ending in 2016, after which he will back out of partisan politics.
Although becoming a legal practitioner change him but he admitted becoming a politician transformed him more, it made him more humble and patient than he was, this however made people to ask why he always mingle with the lower class in society, to the extent of even eating and drinking with them. According to some of his constituents it will be difficult to tell from afar that this is indeed Hon .Banton-Odro when he is in their mix especially among the fishermen during fishing hours. No matter his wear he will always serve them and they love him so much. For them his decision not contest again is a vacuum that can never be filled.
Again he has learnt a lot from politics, that to be a great politician is to have the will to serve and to be ready to accept all manner of things that will come your way. He noted every great politician knows how best to handle all situations no matter how bad it is. His little  regrets is not for himself but for those who have been affected by negative stories about him, especially his family and loved ones but aside all it has been an honor to have served Mother Ghana and his constituents.
Hon. Baton-Odro  has  achieved a lot  for his constituency   through  the MP's common fund these  projects include  the following  building of a police station, equipments for the Fire service, Furniture's for schools and their teachers, assisting the needy but brilliant, ICT  Centre's, vocational training programs, teachers quarters , connecting his constituency to the national  grade and many more.
For him his biggest achievement is service to the people thereby putting a smile on the faces of the needy and the depressed, it was also through his   maximum effort together with his team that put into being  of the construction of an Ultra Modern Market at Kotokraba in Cape Coast, where he had to ensure the approval of the said project by Parliament to gain financial assistance from EXIM Bank China. Even though he does recollect  it was  mid-night when he had  to call on the then vice president Mahama to talk to the then majority leader  so the said project will be approved, it was however after the said conversation between the vice president and the majority leader  that finally the project was considered and approved by parliament.  The Kotokraba Ultra Modern Market will have a bank, a hospital and a school attached when completed.  The creation of a clinic for the aged  by  him   offers free medical care for the  aged, the establishment of a Science Resource Center to help young ones to improve their knowledge in Mathematics and Science. For him doing those things will help put smiles on  faces of people  especially the ordinary Ghanaian he added again.
Finally the legendary Ebo Barton-Odro is also married to another great   personality to the beautiful Mrs.  Marie  Acquiline Banton-Odro with four beautiful Children all of which have completed their masters he added with a passion, "I am a proud father "he says.  On his educational background he holds BA (UG), 1975 QCL (UG), 1977  BL( GSL)1979. Meanwhile he has had a successful political carrier serving as a former deputy minister of justice and attorney general, presently he is the Member of Parliament for Cape Coast North and the first deputy speaker of Ghana's parliament.
Credit….. Star Africa Magazine