Mrs Hannah Owusu-Koranteng -Africa's Wild Flower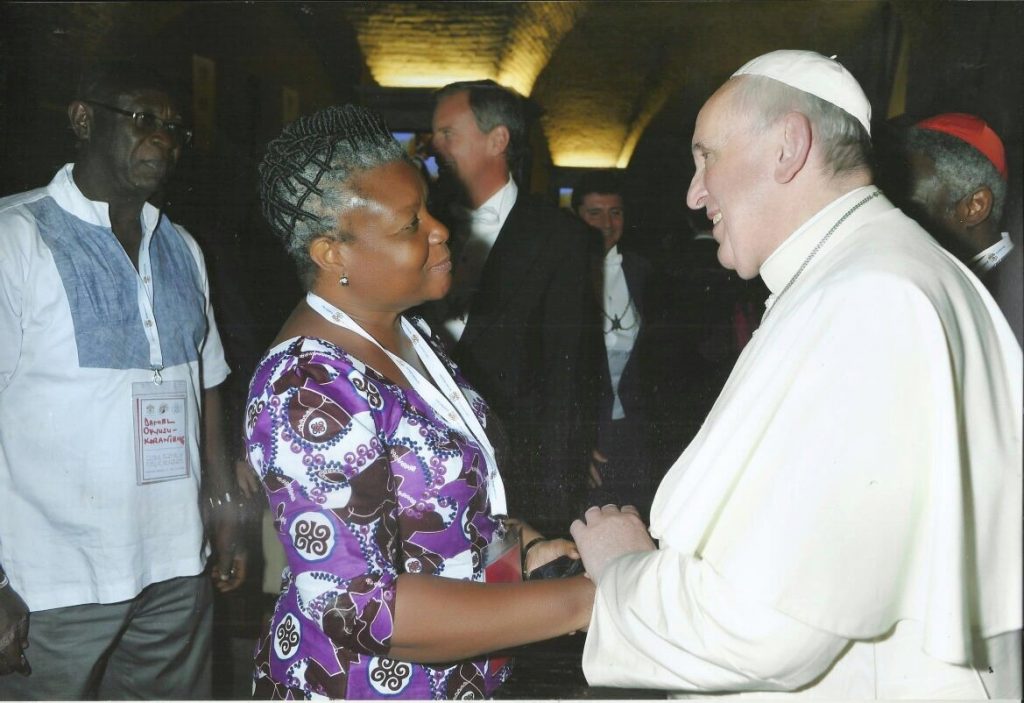 On the hardest part of the desert is where a particular flower grows, this is so special a flower, beautiful, strong and above all has a sweet aroma. When it rains, it saves its strength and when the sun shines, it blooms its beauty. For its unique and special style, it has many names, but most poets call it the wild flower. There isn't a place in this world that a wild flower will not survive.
Mrs Hannah Owusu- Koranteng by far has earned and joined the list of wild flowers in the world. Presently she is indeed an example of a true African woman. By the time you finish reading this article of the birth, the life and the achievements of this outstanding beautiful and intelligent woman,    you will understand why she qualifies to be described as Africa's number one Wild Flower.
Mrs Hannah Owusu -Koranteng  was born in Tarkwa on 1st October  1956 . She is a royal of the Asankoma Royal family of Awodua , the seat of the Apinto Division located 21kilometers by rail and 30kilometers by road from Tarkwa in the Western Region of Ghana. She started her early life in a rural environment and as a child, she demonstrated leadership qualities but did not know that she could attain such heights of greatness. She had a firm commitment to live an honest and truthful life at an early age. She recollects that at an early age of 9,   she was able to defend her innocence before her beloved father when she was accused of wrong doing.     According to her, she managed to explain matters vividly to her father without disrespecting him and when her  father realized that he was rather wrong,  he apologized and told her  never to succumb  to fear and intimidation. Her father realized her strong convictions and encouraged her to continue to stand by the truth because her commitment to defend the weak would one day make her the beacon of truth which would send her to greater heights. She has been guided by her father's encouragement that she should defend the truth at all times.
She started her training as an Agriculturist from  the Kwadaso Agricultural College and  completed the college  as a Technical Officer in 1980. She was undertaking her third year practical attachment to become a Technical Officer(T.O.)when she was assigned  the responsibility of  a District Officer of Women in  Agricultural Development in charge of  the Agona Swedru District at an early of  age of 21 years .  She recounts that starting life in Agona Swedru as a young Agriculturist  and a District officer was very challenging because she had to learn to manage staff who were much older than her . She had to rely on her inner convictions of honesty and respect for all people to succeed in executing her professional and administrative responsibilities.  Taking up the responsibilities of a District Officer of a department in the Ministry of Food and Agriculture at an early age challenged her to work hard to justify the confidence of  her superior officers in the Ministry of Food and Agriculture in her ability to deliver.
Mrs Owusu- Koranteng  said she married the man of her heart  Mr Owusu-Koranteng when they met as students  at the Kwadaso Agricultural College. They got married in November 1980  when she was  24 years and her husband was 25 years .  They gave birth to their first child, a handsome boy who was named Kwaku Asiedu-Koranteng when she was 25 years.  Their first child Kwaku Asiedu-Koranteng developed brain damage as a result of prolonged birth and he became mentally retarded and bedridden . Doctors declared that   handsome Kwaku Asiedu-Koranteng could live only to the age of about 5 years . The medical condition of their first child was initially very disturbing to the young couple but they brazed themselves up to face the challenge. Mrs Owusu-Koranteng  had to resign from her work as a young Agriculturist to provide adequate care and support  for her sick son. She recounts that taking care of her bedridden son and the period when she resigned from formal work compelled her to take very pragmatic measures to cope with the emotional and economic difficulties.  She marshalled all her skills to survive and recounts that she undertook jobs such as soap making, baking, sewing, Beekeeping , farming and other income generating activities to survive. It would surprise many people to know that Mrs Hannah  Owusu-Koranteng is a very good seamstress who can sew Choir robes though she has not had any formal training in sewing. She developed the skill of sewing through self-learning.  The couple had to organize themselves so well to ensure that they provided comfort and care to their sick son and also progressed in their career. Her husband Mr Owusu-Koranteng pursued university education at the time Hannah was taking care of their sick son and when her husband completed university education, Hannah regained employment in the Ministry of Food and Agriculture after resigning   from the public service  for about ten  years due to the sickness of her son . She gained admission to Kwame Nkrumah University of Science and Technology(KNUST)  to study Diploma in Horticulture whilst her husband took care of their sick son and family.  She was appointed a Subject Matter Specialist on Women in Agriculture for the Western Region whilst working with the Ministry of Food and Agriculture. According to Mrs Owusu-Koranteng , the whole family including their children provided adequate care and support to  their son Kwaku Asiedu-Koranteng . Though taking care of their sick son took a greater part of their time and involved not having good sleep because their son needed care in the night, the family enjoyed the care they provided to their handsome son  Kwaku Asiedu-Koranteng. Kwaku was a lovely and handsome boy who taught the family very useful lessons in caring for people in need.
The sickness of Kwaku Asiedu-Koranteng  united the family. He died at the age of 15 years though doctors had declared that he would live for only 5 years.
The third child of Mr and Mrs Owusu-Koranteng  died before reaching three months but all these tribulations did not  break down their  strong spirit .  According to Mrs Owusu-Koranteng, she has no regrets for the difficulties she went through at an early age because the challenges have sharpened her understanding of life and deepened her belief that life is about service to humanity. She is happy that her two children have compassion for the poor. Her life and that of her husband have challenged their children to aspire to work hard to make academic and professional achievements to be able to serve humanity better. Her elder daughter Akua Owusu-Koranteng is a Senior Human Resource Officer in a maritime company and her son Kojo Owusu-Koranteng is a Medical Student at the University of Ghana Medical School after completing a Bsc Degree in Diagnostic Radiography.
Undoubtedly,   Mrs Owusu-Koranteng has achieved excellence in many respects despite the difficult situations of her early life which could have broken down many people. She has prepared herself to work and relate with people of honour and excellence in the world whilst remaining humble and committed to  working among  ordinary community people. She has chaired local, national and international events. In the course of her work, she has met and engaged with  top religious and political leaders in the world.  Some of these world leaders include the current Pope Francis, Her Excellency Mary Robinson, His Excellency Ingvar Carlsson, former Prime Minister of Sweden and top level diplomats of United Nations and the African Union .  She is also very experienced in areas such as rural development, mining advocacy, environmental and human rights issues. As an expert in mining advocacy, she has been at the forefront of national and international training programmes to sensitize communities and NGOs on mining issues.  Hannah Owusu-Koranteng represented Civil Society Organizations in the world on the International Board of the Extractive Industry Transparency Initiative (EITI) from 2011 to 2013. Her work on the EITI Board made her to travel extensively throughout the world to meet with top political leaders.   She had served on the Multi-stakeholder Group of the Ghana EITI from 2010 to date. In 2007, she represented NGOs on the Technical Committee that was set up by government to draft the regulation on compensation principles and resettlement in the Minerals and Mining Act , Act 703 of 2006.
She started her academic career from the Fijai Senior Secondary School in Sekondi in 1970 for two years and continued her High School education at the Tarkwa Secondary School where she  obtained the  General Certificate of Education in 1975. In 1980, she obtained a certificate in General Agriculture at the  Kwadaso Agricultural College, Kumasi in the Ashanti Region of Ghana. After working for some years in the Ministry of Agriculture she pursued a Diploma in Horticulture programme at the Kwame Nkrumah University of Science and Technology from 1992 to 1994. In 1997 she took a semester course in Food and Nutrition Security for Health and Development organized by the University of Development Studies in collaboration with Wageningen Agricultural University, Netherlands and UNICEF. She participated in the NGO Leadership Development Programme which was organized by IBIS and Olive Organization Development and Training of South Africa between November 2001- September 2002.
To satisfy her quest for higher knowledge, Mrs Hannah Owusu-Koranteng pursued a post graduate programme at the University of Cape Coast and successfully obtained an M.A. in Environmental Management and Policy in  2008 .
In addition to her academic qualifications,   Mrs Hannah Owusu-Koranteng  has undertaken many short courses in Ghana and abroad to enrich her  intellectual and practical understanding of her  work as an expert in natural resource governance and leadership skills.  Some of the courses she had undertaken include but not limited to  :
" Reversing the Resource curse: Theory and practice" organized  by Central European University in Budapest , Hungary from   December 2012 to March  2013.
World Legal Systems organized by  International Petroleum Transactions,  CWC School of Energy at Dar es  Salam, Tanzania (8th -13 July, 2012)
Facilitation  Development Programme organized by IBIS Ghana(April 23rd –May 2nd 2003)
Strengthening the Electronic  Communication Skills for  Women's Organizations in Ghana organized by ABANTU for  Development and sponsored  by US Information   Service (September 1999),
Training in Adaptive Research   organized by the Crops Research institute, Kumasi (February 17th – 20th , 1997).
Training in plantain production, Processing and Utilization Course organized  by Crop  Research Institute  of Ghana  in collaboration with the International institute of Tropical Agriculture (IITA ) Nigeria  November   18th -29th , 1996)
Training in Extension Material Development Course organized by Ministry of Food and Agriculture (March 19th -24th  1995).
Mrs Hannah Owusu-Koranteng gained tremendous experience as a public servant whilst working with the Ministry of Food and Agriculture and rich activist life that spans over two decades. As an agricultural expert, she worked as a Technical Officer of the Ministry of Food and Agriculture from 1980 to 1986, District Development Officer of Wassa West District from 1994 to 1995 and a Subject Matter Specialist for Women Farmers in then Wassa West  , Asankragwa and Enchi Districts from 1995 to 1998. She resigned from the Ministry of Food and Agriculture in 1998 and joined the General Agricultural Workers' Union(GAWU) as a  Project Coordinator  from 1998 to 2003. Her work as a Project Coordinator involved consolidating rural workers' projects nationwide as part of the strategy to organize informal sector workers into trade unions. She was an Examiner of the West Africa Examinations Council from 1994 to 1998.
By 2003, Wacam had developed into a mining advocacy  NGO with national and international credibility  and it became necessary for Mrs Hannah Owusu-Koranteng  to take up full time employment in Wacam .  Her decision to resign from GAWU was informed by her desire to fulfill an important need to use her experience to develop Wacam. She was appointed Wacam's  Director  of Training and Research in 2003 . As the Director of Training and Research, she travelled the length and breadth of the country especially in rural communities to train local people on their rights and responsibilities in the Minerals and Mining Act , the Constitution and helped to popularize the ECOWAS Directive on Mining among mining communities using local language and participatory teaching methods. The result is that the knowledge gained through the rights education programme of Wacam has equipped host communities , Journalists, NGOs, Faith-based organisations , Students , Women's groups, politicians  among others with knowledge about the social, economic and environmental costs of mining . Being a premier mining advocacy organization in Ghana, Wacam's training programmes had developed a core of mining activists who are working as activists  in different areas in the extractive sector .  Wacam has trained many Journalists on mining issues and the training programs have contributed to the increased reportage on mining and environmental issues.
Mrs Owusu-Koranteng has made presentations on mining and environmental issues at many local and international confernces. She has a number of published works to her credit and co-authored a ground breaking research on Free Prior and Informed Consent(FPIC) titled, " The Right to Decide: Free Prior and Informed Consent in Ghana" authored by Augustine Niber, Hannah Owusu-Koranteng ,Daniel Owusu-Koranteng and Emily Greenspan . She   published a manual for mining advocacy titled " The Training Manual for Mining advocacy in Ghana" with John Opoku and her husband Daniel Owusu-Koranteng.   Dr Partick Agbesinyale and Mrs Hannah Owusu-Koranteng jointly wrote an article , " The downside of Ghana's gold boom. A study of Wassa West District (1986- 2006)" which  was published in a book titled " Governance and Sustainable Development" authored by Kendie, S. B & Martens, P. (Eds) .
Other publications of Hannah Owusu-Koranteng  include  " Wacam an organization of communities affected by mining" (2008); " Preliminary Review of Alternative Livelihood Project(ALP) of Goldfields Ghana Limited (2008)"; OCED Guidelines and Corporate Social Responsibility : An exploratory  study of the mining sector  in Ghana (2005 ) by Emmanuel Tenkorang and Hannah Owusu-Koranteng Koranteng among other publications.
Mrs Hannah Owusu-Koranteng has built her reputation as an expert on mining, social and environmental issues and has made remarkable presentations both at home and abroad .  A few of her presentations are catalogued below to demonstrate her deep knowledge of mining , social  and environmental issues :
·         Presentation on  "The human dignity and the environment: implications for priestly ministry" at  St. Peter's Regional Seminary 10th theology week  15th – 19th April 2013 on the theme: The Catholic Church and Human Dignity: Implications for Contemporary Priestly Formation.
·         Gold  mining in Ghana –Unequal distribution of burdens  and benefits  and its implications on human rights " at the 11th EADI General Conference organized by German Development Institute in Bonn ( September 22nd -24th , 2005),
·          Presentation on "Development – Rural communities" perspectives   at Edberg Seminar, Karlstad University, Sweden ( February 2005)
·         Presentation on " Identifying Vulnerable Groups, Mobilizing affected persons and documenting Violations – Problems and the  Way Forward "  organized for  Environmental Journalists at GNAT HALL, Accra  September 2001.
Aside these great presentations she has also organized  some  overseas  Training programmes  and functioned as a Resource Person on  Mining advocacy and environment  for NGO's and communities in Mali AND Senegal in 2004 . She has been a Resource Person to the Pontifical Council on Justice and Peace on natural resource extraction since 2011 . She represented the Trades Union Congress Ghana at the World Social Forum in Porte-Alegre , Brazil and presented a paper on Decent Work and the Informal Economy. Mrs Hannah Owusu-Koranteng represented Trade Union Congress ( TUC) Ghana, on International  Confederation of Free Trades Unions ( ICFTU) informal sector Taskforce in  Brussels September 2001.
She was a member of the International Steering Committee of Organization for Economic Corporation and Development (OECD Watch) from 2004-2008. She has a strong interest in mentoring the youth and has been serving as a member of the Board of Directors of Youth for Action Ghana since 2006 in addition to being a Patron of the Ultimate Youth Club in Tema from 2004 to date. She loves singing and has been a Patron of the Tema Youth Choir since 2006.
Hannah Owusu-Koranteng is specialist in areas of Rural work and the informal sector, Gender Issues, Community  Mobilization and activism in areas of human rights/environment , Research and training skills using  Participatory  techniques and Labour Relations.
Mrs Hannah Owusu-Koranteng received the international " Right the Wrong" of Oxfam America in March 2015  for promoting the leadership of women in communities affected by mining in Ghana,  mentoring new female leaders and being a voice for the marginalised.
Mrs Hannah Owusu-Koranteng was honoured by Federation of Environment Students of Ghana Institute of Journalism in April 2014 for safeguarding the environment.
Africa's Wild flower Mrs  Hannah Owusu Koranteng  is worried that Africans are losing their roots  and rich cultural values of care for each other and replacing these values  with the culture of individualism that are dumped on our continent by our colonial masters. She believes that Africans have enough indigenous knowledge and resources to resolve their problems but most of us, especially African elites have identity crisis which makes us look down on our language, our colour and our identity. " We are happy when our children speak English and other foreign languages thinking wrongly that speaking such  languages give us high social standing", she complained.
"Africa's extreme poverty in the midst of abundant resources indicate that the model of development which is based on the exploitative development models of others have failed to meet our needs and we have to do some rethinking.  Our political leaders have been greedy and corrupt because they are ignorant of who they are," she stated with passion.
The beautiful wild flower and outstanding Mrs  Hannah Owusu Koranteng   says she takes inspiration from her Christian convictions of love for the poor , her Father  and her lovey  handsome and supportive husband Mr Daniel  Owusu- Koranteng who is also an activist .
Mrs Hannah Owusu-Koranteng received the international " Right the Wrong" from Oxfam America in March 2015  for promoting the leadership of women in communities affected by mining in Ghana,  mentoring new female leaders and being a voice for the marginalised.
Mr and Mrs Owusu-Koranteng have been married for about 35 years and the  couple have two children Akua Owusu-Koranteng , a Senior Human Resource Officer in a maritime organization and Kojo Owusu-Koranteng, a Medical student of the University of Ghana Medical School.
The couple love singing and are Choristers of the Presbyterian Church of Ghana , Trinity Congregation, Tema.
Credits …… Star Africa Magazine