Remittances hit Sh154bn last year, easing pressure on falling shilling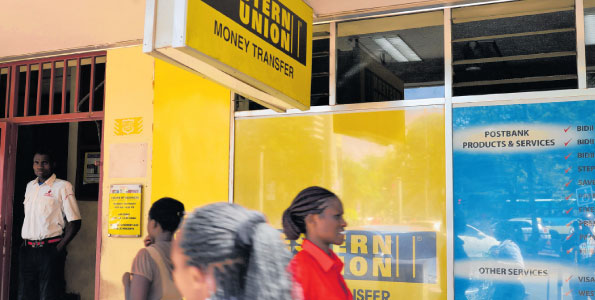 Cash remittances from Kenyans working abroad rose 9.3 per cent last year cushioning the shilling from further drop.
Data from Central Bank of Kenya (CBK) shows diaspora remittances rose to Sh154 billion last year from previous Sh141 billion, cementing the source as Kenya's top foreign currency earner.
Kenya was ranked the third largest receiver of diaspora remittances in sub-Saharan Africa by Global Knowledge Partnership on Migration and Development, behind Nigeria and Ghana but at par with Senegal.
The Kenya shilling lost 12.8 per cent last year while inflation figures were in single digit, giving dollar holders huge exchange gains.
The dollar gained against most global currencies last year following the decision by the US Federal Reserve Bank to raise interest rates for the first time in close to a decade.
Uganda shilling lost 22.2 per cent to the dollar, Tanzanian shilling shed 24 per cent and the South African rand 32.2 per cent underlining Kenya's relative resilience partly arising from remittances and falling oil prices.
The remittances provided crucial support to the shilling at a time traditional sources of foreign currency were on a decline. Coffee earnings dropped to Sh2.1 billion from Sh2.3 billion a year earlier while horticulture dipped to 7.6 billion from Sh8.1 billion in 2014.
Lowering of transaction costs and improved data capturing have helped the higher remittances numbers. There are still queries on the completeness of the remittance data with the Treasury estimating total cash sent in the country as double that captured by official channels.
The government recently formulated the diaspora policy paper which pushes for the lowering of remittance fees and protection of investments made by those working abroad.
"For most Kenyans sending money home is a social obligation — to help families — but it is also favourable to invest here especially with the weakening of the shilling," said Dr Samuel Nyandemo, an economics lecturer at the University of Nairobi.
Sending money from Tanzania to Kenya was identified as one of the most expensive globally costing an estimated 13.4 per cent of the transaction value.
Banks have also been aggressive tapping business from the diaspora because the remittances provide them with cheap source of deposits, foreign currency and earns them transactional income.
Source:Business Daily Africa