Singapore gov commits S$19b to R&D initiatives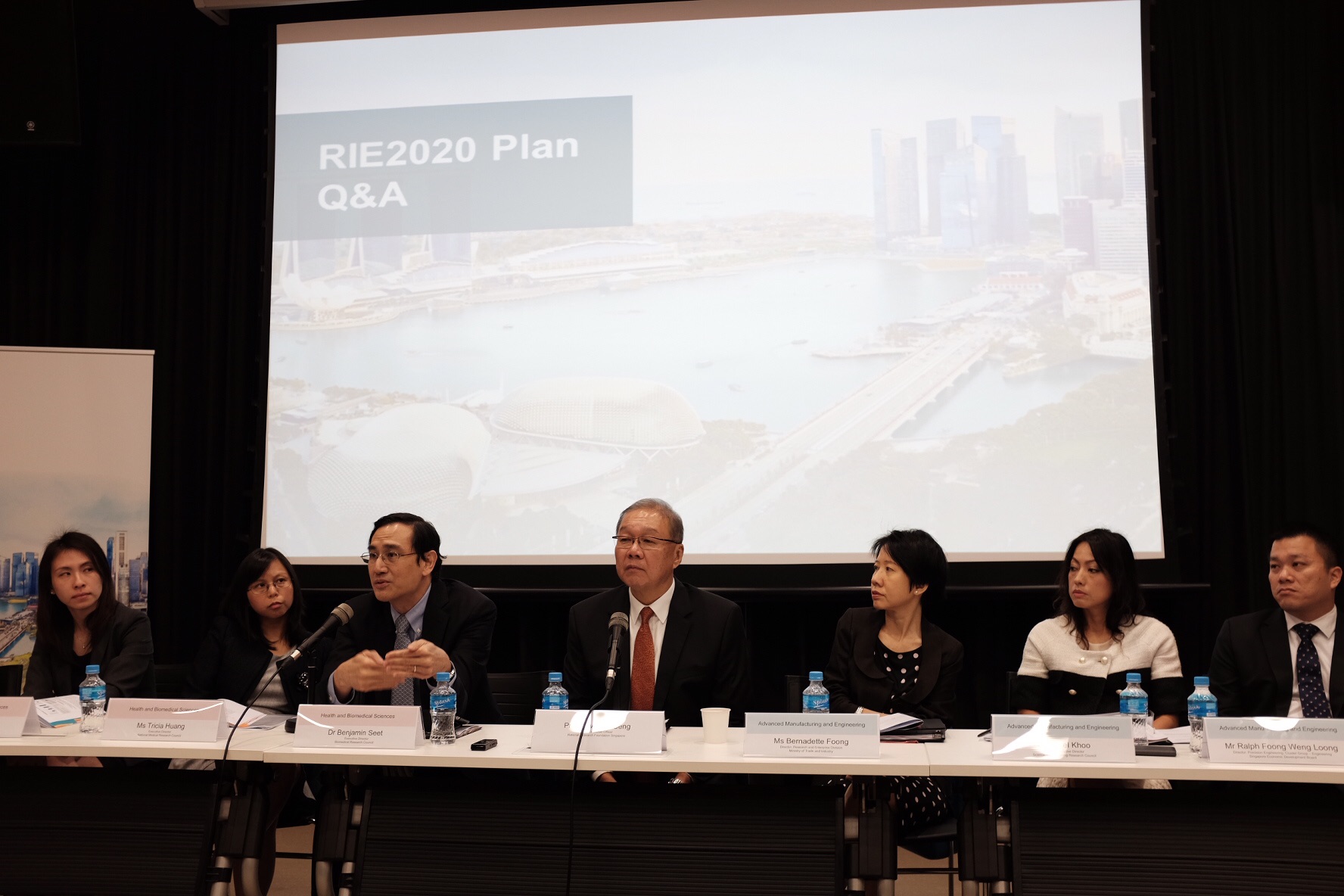 SINGAPORE's Prime Minister Lee Hsien Loong on Friday (Jan 8) unveiled a S$19 billion plan to support Singapore's R&D efforts over the next five years. The Research Innovation Enterprise 2020 Plan (RIE2020) seeks to support and translate research into solutions that address national challenges, build up innovation and technology adoption in companies, and drive economic growth through value creation.
The S$19 billion commitment represents an 18 per cent jump from RIE2015's S$16.1 billion and is the biggest budget to date.
Speaking at the launch of RIE2020, Prime Minister Lee said RIE will continue to be important to secure Singapore's future. "It will contribute significantly to the economy and creates opportunities and jobs, supports national initiatives like Smart Nation, SkillsFuture, studies which we are doing under the Committee for the Future Economy, and it helps our workers to thrive amidst technological changes and globalisation," he said.
He added that it would improve healthcare for the population so seniors "live better and healthier lives" and transform the urban landscape for greater liveability and sustainability.
Mr Lee also announced that the sixth five-year roadmap for research, innovation and enterprise will be more targeted in its funding approach, as the National Research Foundation (NRF) looks to capitalise on technology the country has a competitive advantage in, as well as build up capabilities in areas that are deemed to have a greater national need.
The RIE2020 media briefing (Photo: Loke Kok Fai)
In a media briefing, the NRF said the latest roadmap is more selective and targeted in its support of research and development (R&D) initiatives, even as it continues to find ways to capitalise from the latest advancements.
This is so as to focus efforts in areas where national need, economic opportunity and competitive capabilities intersect, as well as to create value from R&D investments, it said. The NRF is a department under the Prime Minister's Office (PMO), and sets the national direction for R&D by developing policies, plans and strategies for research, innovation and enterprise.
Specifically, instead of broadly categorising the funding into "Private R&D" and "Public R&D", as was done in RIE2015, this time there would be four primary technology domains:
Advanced Manufacturing and Engineering
Health and Biomedical Sciences
Services and Digital Economy
Urban Solutions and Sustainability
The four domains seek to deepen the technological capabilities and competitiveness of Singapore's manufacturing and engineering sectors, advance human health and wellness, leverage the country's digital capabilities to raise productivity and meet national priorities, such as developing a reinforced cybersecurity infrastructure and system to fend off cyber threats.
At the same time, these four domains will be supported by three cross-cutting programmes that aim to ensure excellent science, a strong pipeline of manpower and value creation. These programmes are: Academic research; manpower; and Innovation and enterprise.
"We want to ensure that the best competitive ideas in the areas of relevance and importance to us continue to be funded. We want to encourage collaboration and participation of multiple parties, bringing together different expertise to address big issues," said NRF CEO Low Teck Seng.
Under RIE2020, funding for White Space, which refers to emerging research, innovation and enterprise activities, will be bumped up to S$2.5 billion – a more than 50 per cent increase from RIE2015's S$1.6 billion.
The NRF will also be building in a renewal mechanism through White Space funding to ensure that resources are re-prioritised to deserving areas such as those of national need, economic opportunity and competitive capabilities.
The percentage of open competitive funding for public R&D will be doubled from the roughly S$2 billion in RIE2015 to S$4 billion in 2020 – an increase from 20 per cent to 40 per cent – in order to fund the best ideas and most deserving needs in the four technological domains as well as academic research.
R&D SPENDING TO REMAIN AT 1% OF GDP
Also, the Government will sustain R&D spending at about 1 per cent of GDP. This is more than the UK, but comparable to the US and public spending in other research-intensive economies.
Deputy Prime Minister Teo Chee Hean, who is the chairman of the NRF Board said: "Essentially R&D is an investment in our own future. It's an expression of belief in Singapore and Singapore's future and if we want to be a knowledge-based economy, which thrives on innovation and enterprise, and to build this knowledge base on which we can build the future of Singapore, then R&D is where we have to invest."
Prime Minister Lee added that he hopes to see more spending from the private sector on research efforts above the current 1:1.5 ratio of public to private funding.
"For the next five-year plan (RIE2020), I think our target is going from 1.5 to 1.8. We hope to do better than the target but it's not just the amount they spend but whether they spend it intelligently and productively or not. And that depends on the existing companies having the right needs for research, but also depends on new companies coming in who also want to do research."
Singapore leaders at the 9th RIEC meeting (Photo: Xabryna Kek)
GROOMING AND RETAINING TALENT
In terms of manpower, the agency recognises the need to have a Singapore core to anchor capabilities. As such, it is doubling its efforts to attract Singaporeans home such as through the Returning Singaporeans Scientists Scheme.
"To drive the RIE2020, we will need good people, both Singaporeans as well as foreign talent," said Prime Minister Lee. He said interest in science and technology must be encouraged in youth and "give them the sense that it is indeed possible to do exciting things in Singapore and change the world". It is also important to attract talented Singaporeans abroad to work in the scientific field, he added.
The National University of Singapore (NUS) had separately on Friday announced it had recruited two local researchers from overseas under the Returning Singaporean Scientists Scheme.
Professor Andrew Lim Leong Chye and Dr Aaron Thean Voon Yew were awarded research grants from the NRF. The former will look into solutions to address problems in healthcare, transport and education while the latter will work on embedding electronic intelligence into new form factors, said NUS.
"We're part of a global community … It's not a bad thing at all for Singaporeans to be in demand all over the world and to be distributed in many cities and research centres, where they can gain experience and pick up ideas and perhaps, come back one day": PM Lee Hsien Loong, when asked about the difficulty of retaining talent in Singapore. http://bit.ly/1PSkgij
Posted by Channel NewsAsia Singapore on Friday, 8 January 2016
IDEAS MUST TRANSLATE INTO REALITY
NRF added that for organisations with projects in the highlighted domains, they should not rest on their laurels. These parties will have to put in new proposals and continued funding is dependent on whether the ideas are good, competitive and relevant.
The ideas will also need to be taken out of the laboratories and into society and the marketplace, and it is not just the responsibility of the big multinationals, the NRF said.
"More importantly, now we want to see how we can actually get technology out to our local large organisations and small and medium enterprises (SMEs). We need to encourage our large enterprises to be more active in research such that they are ready receptacles for the technologies that we develop in our universities and our institutes," said Prof Low.
It is hoped this would also help create a vibrant start-up space, which could scale to form new corporations. Together with research institutions, they can work collectively to strengthen Singapore's resilience as a society and economy, said NRF.
Credit:CNA/kk