This couple is the first winner of $1.5 billion US jackpot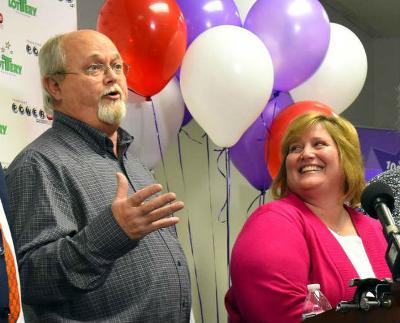 NEW YORK: Lottery officials have confirmed that a Tennessee couple held one of three winning tickets for a world record US $1.6 billion jackpot and handed them a symbolic check for US $528.8 million.
John and Lisa Robinson said they had barely slept since defying the odds to hit the jackpot, but they smiled when a lottery executive handed them a giant check before a phalanx of television cameras.
John works at a maintenance distribution centre and Lisa for a dermatologist. Their adult daughter Tiffany stood next to them with their rescue dog Abby.The Robinsons, from the tiny town of Munford, with barely 5,000 residents, appeared overwhelmed by their incredible luck in the Powerball jackpot draw on Wednesday. The chances of winning were 1 in 292.2 million.
The couple told reporters that they wanted to pay off their daughter's student loans, but had no plans to move and wanted to continue working. They intend to donate funds to their church and a children's hospital and to help friends.
Rebecca Hargrove, president of the Tennessee Lottery Corporation, said they would have to wait 10 days for their actual winnings, which the commission would pay after retailers send in the proceeds of record ticket sales.They "ll get a  small check today for a few million," said   Hargrove
. The couple have opted to receive a one-time cash payment of US $337 million rather than US $528.8 million divided into annual payments over 29 years. There is no state tax on lottery winnings in Tennessee.
"More stress comes with that ticket," Lisa told a news conference in Nashville after flying in from New York, where the couple had appeared on national television.
The Robinsons said they had consulted the Internet and followed the advice they found there, hiring an accountant and a lawyer to help them navigate their riches.
Their lawyer, Joe Townsend, asked the media to give them time to rest before deciding on any further media appearances.They are almost  48 hours  without sleep, "he told reporters". The family's life changed forever when John bought four powerball tickets at his wife's request just a few hours before Wednesday Live television draw then headed to sleep because he was not feeling well.It was his custom to buy four tickets, one for each member of  his  immediate family.The couple also have a son.
Credits…….THE TIMES OF INDIA WORLD