Worries mount for world's business leaders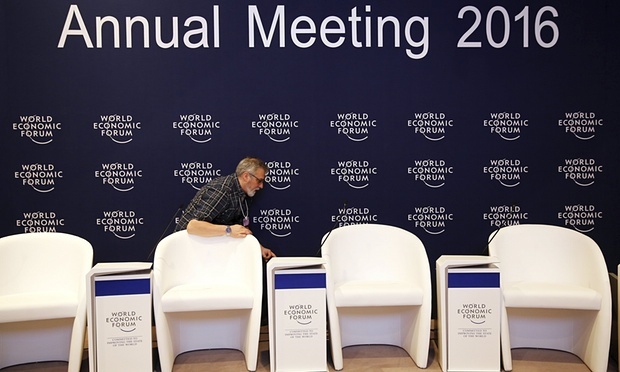 The falling price of oil, the slowing Chinese economy and the risks of terrorist attacks are conspiring to make the chief executives of major companies around the world more concerned about the prospects for economic growth.
As business leaders and policymakers make their way to the World Economic Forum in Davos, a survey found that two-thirds of chief executives see more threats facing their businesses than three years ago.
Only a quarter of chief executives surveyed by PricewaterhouseCoopers were expecting global economic growth to improve this year. Last year, 37% had predicted an improvement, and the gloomier outlook comes at a time of turbulence on world stock markets, which have had one of their worse starts to a trading year.
"Seven years on from the global financial crisis, the business landscape still hasn't really returned to what it was. Will it ever?" the annual PwC report asked.
"Last year, regulation, skills, national debt, geopolitical uncertainty and taxes topped CEOs' list of concerns about threats to business growth. None of these have gone away this year. In fact, the level of worry is higher today than at any point in the past five years," PwC said.
The company bosses list over-regulation as their top concern, followed by geopolitical uncertainty and exchange rate volatility – an issue brought to the centre stage after China's sudden devaluation of its currency last year. The survey found 74% of business leaders were concerned about geopolitical uncertainty following the terror attacks in Paris last year.
Dennis Nally, the chairman of PwC, said chief executives were also aware of the increased use of technology by customers able to employ social media to communicate with one another and focused on major issues such as climate change.
"Faced with these changes, CEOs tell us that customers will increasingly judge companies based on how they help greater society and how they live up to their own values," Nally said. "Notably, nearly a quarter of CEOs said their company has changed its sense of purpose in the last three years to take into account the broader impact it has on society."
Chief executives are also less upbeat about their own company's prospects than they were last year, with a four percentage point fall to 35%. In the US, the decline is more marked, from 46% to 33%.
Chief executives in Switzerland are least optimistic, with 16% confident about revenue growth compared with a year ago.
In the UK, more than half of business leaders see more threats to their business today than three years ago.
However, Ian Powell, the chairman and senior partner of PwC UK, said: "CEOs are putting people front and centre of their plans for future growth. It is encouraging that UK business leaders are holding their nerve against the uncertain global economic and geopolitical backdrop by planning to invest in creating new jobs and developing their people".
Source: The Guardian/ Jill Treanor and Larry Elliot