Dubai International Reeling in Atlanta, Beijing in Airport Ranks

Dubai International Airport, previously the world's sixth-busiest hub, narrowed the gap to the top two of Atlanta and Beijing last year after piling on 11 percent more passengers, spurred by the expansion of local carrier Emirates and its mammoth fleet of wide-body jets.
Dubai's tally reached 78 million, a jump of 7.5 million, according to figures released Monday. While Atlanta Hartfield-Jackson, the main base for Delta Air Lines Inc., remains the busiest airport, its total of 101.5 million customers rose only 5.3 million. Beijing Capital airport added 3.8 million to reach 89.9 million.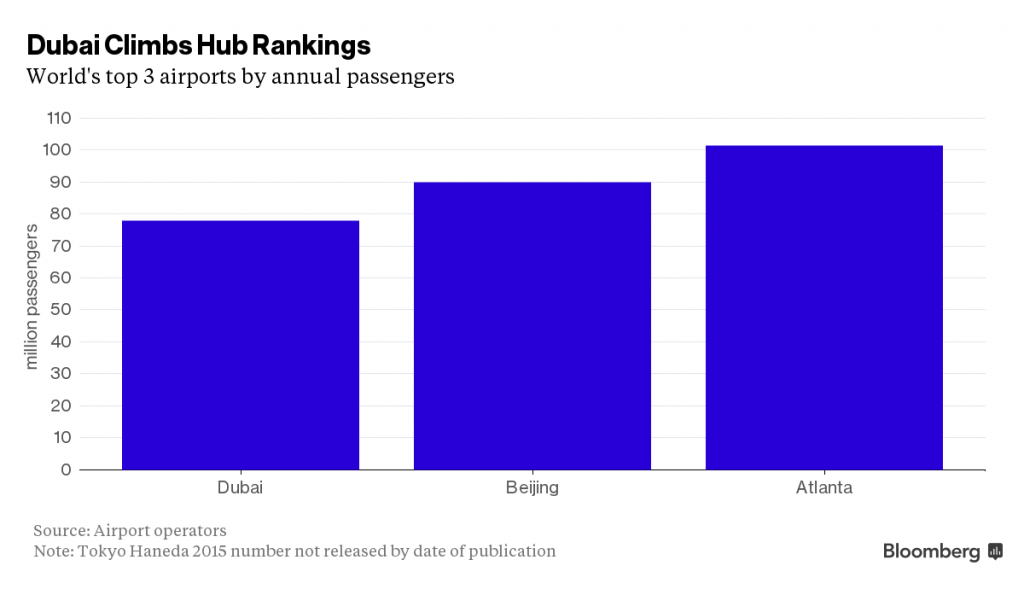 The Gulf hub passed former world No. 3 London Heathrow by total passengers, with the U.K. airport able to lift numbers by only 1.6 million to 75 million, crimped by a lack of operating slots on its two crowded runways. Dubai had already overtaken Heathrow as the busiest airport by international traffic in 2014. Last year it also overhauled the former global No. 5, Los Angeles, even as the U.S. hub added 4.3 million passengers to reach 74.94 million.
While Tokyo Haneda, ranked the fourth-busiest airport in 2014 with 73 million passengers, has yet to publish 2015 figures and could yet displace Dubai as world No. 3, it seems unlikely to do so after ranking behind the Gulf hub in the first six months with less than half the growth rate, according to Airports Council International data.
Emirates boosted passenger numbers 9 percent last year to 51.3 million after swelling the world's largest fleets of Airbus Group SE A380s and Boeing Co. 777s with 26 new aircraft. That's equal to two-thirds of total traffic at Dubai International. The airport also attracted flights by 12 new carriers, with India remaining the most popular market, followed by the U.K. and Saudi Arabia.
Dubai International plans to take capacity to 90 million passengers a year, allowing for further growth before the main expansion of the sheikdom's new Al Maktoum airport, which could one day handle 240 million passengers.
Source: Bloomberg