Dubai's developers push ahead with high-profile launches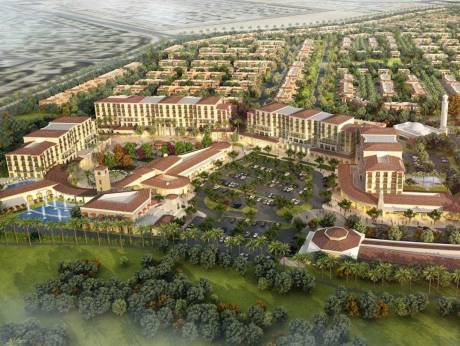 Dubai: Dubai's developers are certainly not letting the soft market conditions get in the way of planned launches. The Dubai Properties Group has announced an 8.2 million square feet master-development in Dubailand, which is to be developed across five phases and with the first to be ready in Q4-2018.
The Spanish-themed "Serena" project will feature clusters of four to six units, with Phase 1 to have two and three-bedroom townhouses and three-bedroom semi-detached villas. The developer is pitching it in the "affordable housing" space.
According to Abdul Latif Al Mulla, Group CEO of DPG, "Dubai Properties is helping lead the resurgence of Dubai's real estate market through the strategic development of mixed-use destinations, as we anticipate and deliver on the rapidly changing and diversifying Dubai.
"Serena stems from our long standing experience in the market, and our understanding of the growing demand for affordable housing in the emirate."
Details of the project's cost and those of the individual units have not been revealed. But Dubailand, with its many individual residential clusters, has been a magnet for mid-tier developments. Apart from those being created by Dubai Properties itself, private developers such as Diamond Developers are also active.
Serena, with direct access to Emirates Road, will have the Dubai Properties built Layan and Al Waha communities in its vicinity. It will also have retail space of approximately 100,000 square feet available on lease.
Canal extension
Incidentally, this is the second major off-plan launch by Dubai's master-developers in the last two days. On Saturday, Damac Properties unveiled the "Aykon City", featuring a six-tower cluster on 4 million square feet near the Dubai Canal extension on Shaikh Zayed Road. The developer has already released the first units at Aykon City, and expects to generate Dh7 billion plus from sales across all phases.
Recently, the Meydan-Sobha Group launched a new phase at its upscale villa project in MBR (Mohammad Bin Zayed) City.
By pressing ahead with their planned launches, developers are clearly stating their intent in creating demand now rather than sit it out until the next upturn comes around.
And investor demand is getting behind projects that are nearing completion. The Meraas-developed No 10 City Walk in Jumeirah 1 is "generating huge interest" ahead of its anticipated second quarter completion. There are a limited number of 81 apartment making up the development.
"We are experiencing strong end-user demand from Emiratis and a wide variety of nationalities, who now have an opportunity, for the first time ever, to acquire freehold real estate in Jumeirah, one of the most sought after areas of Dubai," said David Godchaux, CEO of Core, the UAE association of the consultancy Savills.
According to a 2014 report compiled by Savills, developers need to turn towards creating "specific pedestrian-friendly, urban schemes to attract occupiers", similar to what is trending in cities like New York and London.
Source: Gulf News