Holdout investors to Argentina: 'time is running out' for deal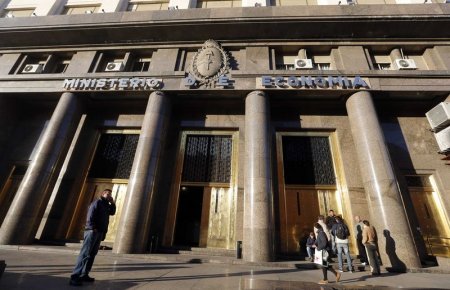 Argentina is running out of time to broker a deal with "holdout" bondholder investors and stave off another painful debt default, lobbyists acting for the New York hedge funds suing the country said in a media ad on Wednesday.
Latin America's No. 3 economy has just two weeks to cut a deal with the holdouts, but a government source told Reuters on Tuesday there would be no face-to-face talks with a court-appointed mediator this week, raising questions over Argentina's commitment to reaching an agreement.
The holdouts are investors who spurned the terms of Argentina's 2005 and 2010 debt restructuring following a $100 billion government default in 2002. Argentina has until July 30 to pay up or reach a deal with the holdouts or face default.
Argentine officials and holdouts met separately with mediator Daniel Pollack in New York last Friday, but no firm plans were made for Finance Minister Kicillof or others to return for further negotiations.
"Time is running out for Argentina," read a full-page advert placed in Argentina's El Cronista daily by the American Task Force Argentina (AFTA). "A default is not a political game, so why would Mr. Kicillof contemplate one."
"It is time for Argentina to demand that its leaders behave in a serious and responsible manner to save this country from default."
Argentina's Cabinet chief Jorge Capitanich denounced the comments as "shameless."
Hundreds of thousands of dollars have been spent by both sides combined placing ads in leading European and American dailies, as well as Argentine papers, in a shift of the battle ground from the U.S. courts to the court of public opinion.
For years Argentina shunned negotiations with the holdouts, portrayed by President Cristina Fernandez as "vultures" scavenging on the bones of Argentina's $100 billion default in 2002.
The funds bought bonds in the secondary market at a steep discount – about 30 cents on the dollar – and want paying out in full.
After a string of U.S. court decisions it, Argentina has exhausted its legal options to get around a 2012 ruling by U.S. District Judge Thomas Griesa that it pay holdouts $1.33 billion plus accrued interest.
Until it pays up, or reaches a deal with the holdouts, Griesa will prevent Argentina from servicing restructured debt resulting from 2005 and 2010 debt swaps. That means it could go into default by a July 30 deadline for an interest payment.
The group of holdouts involved in the case, led by Elliott Management Corp and Aurelius Capital Management, say they are willing to accept bonds as part of a deal.
Argentina has told Griesa it cannot open negotiations with the holdouts if it is not allowed to honor its restructured debt payments.
"None of these vulture funds put a cent into Argentina. On the contrary they bought (the defaulted bonds) on the cheap. They are shameless," Capitanich said on Wednesday in response to the latest newspaper ad.
Source: Business Insider