Rising Nigeria Inflation Risks Thwarting Buhari's Naira Defense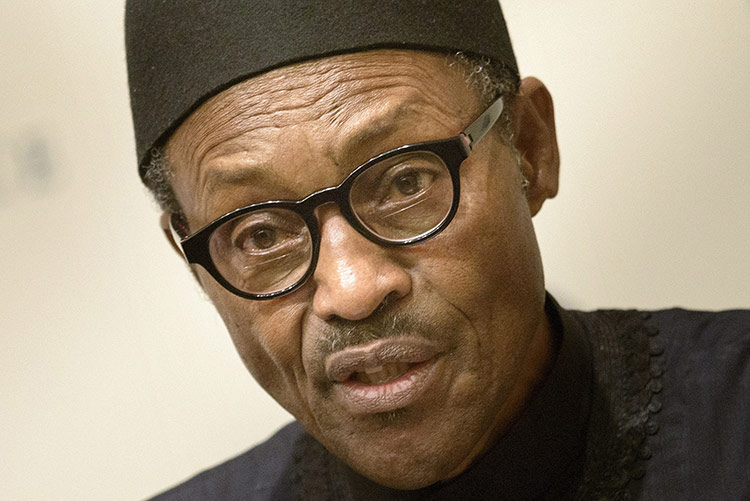 Nigeria: Inflation pressures are rising in Nigeria despite the central bank pegging the currency for almost a year in the face of plunging oil prices.
Governor Godwin Emefiele has opposed devaluing the naira, imposing restrictions on imports and curbing foreign-currency supply instead to cope with a more than 45 percent slump in oil prices since the beginning of last year. Rather than protecting consumers — the justification used by President Muhammadu Buhari in rejecting calls for a weaker currency — the policy threatens to stoke inflation as it boosts import costs and pushes the naira to a record low on the black market.
The central bank's correlation between the naira and inflation "has already broken down," said Nema Ramkhelawan-Bhana, an economist at Rand Merchant Bank in Johannesburg. "Inflation will average in double digits this year," above the central bank's target of 6 percent to 9 percent, she said.
Rising food costs, which make up about half of the consumer price index, have pushed inflation to 9.6 percent in January, the same rate as the previous month and the highest level in three years. Calls to Central Bank of Nigeria spokesman Ibrahim Mu'azu's mobile and office phones didn't connect and he didn't immediately respond to a text message seeking comment.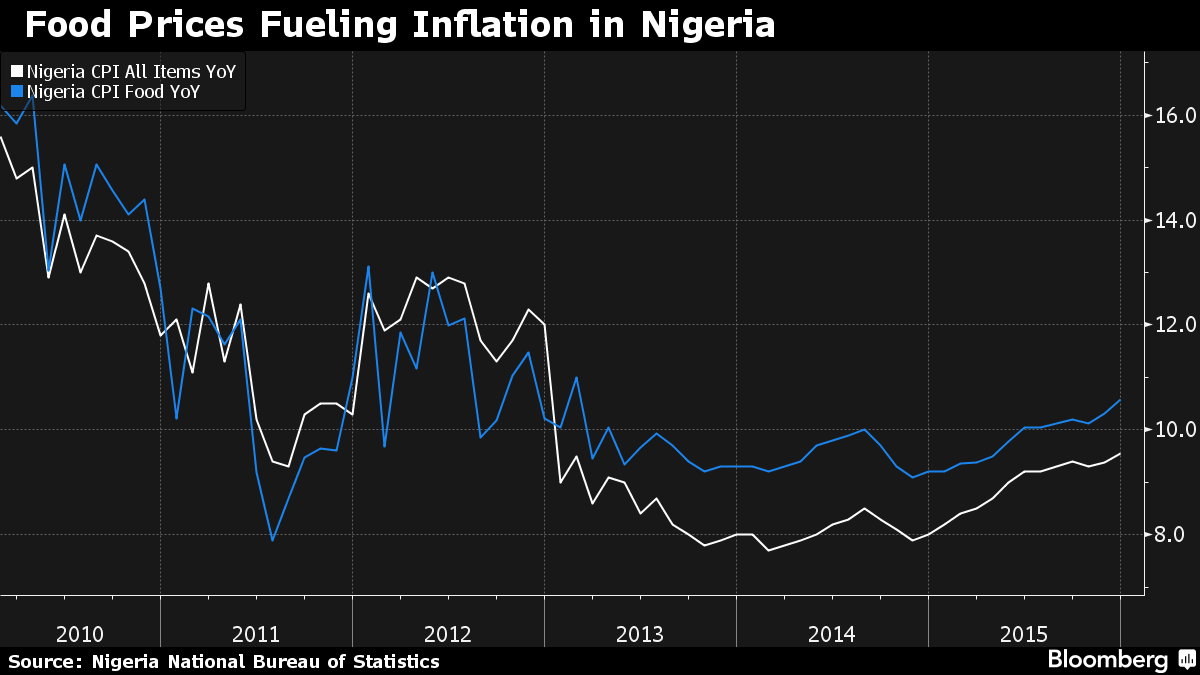 Ten of the 12 categories of consumer prices surveyed by Standard Chartered Plc in its Consumer Price Tracker showed increases in January from the previous month, according to Razia Khan, chief Africa economist at the London-based lender. That shows "prices are rising, despite attempts to keep the official Nigerian naira exchange rate unchanged," she said in an e-mailed note to clients.
The central bank in Africa's largest economy has effectively pegged the naira at 197-199 per dollar since March by restricting foreign-currency supply, hurting businesses. That's forced them to seek currency on the parallel market, where the naira reached a low of 340 against the dollar on Monday.
"The average consumer is already facing a de facto devaluation, and this has driven up prices," Alan Cameron, an economist at Exotix Partners LLP in London, said in an e-mailed responses to questions. While food prices have risen higher than the main rate, pressure in the last few months has come from core inflation, which excludes food costs, he said.
Economic growth, which is estimated to have slowed to 3 percent last year, the lowest since 1999, is set to remain subdued.
"Given the drag on economic growth from the foreign-exchange restrictions in place in order to keep the naira steady, there is a big economic cost to avoiding devaluation," said William Jackson, the London-based senior emerging markets economist at Capital Economics.
Source: Bloomberg