T-Mobile profit nearly triples, adds 2.1 million customers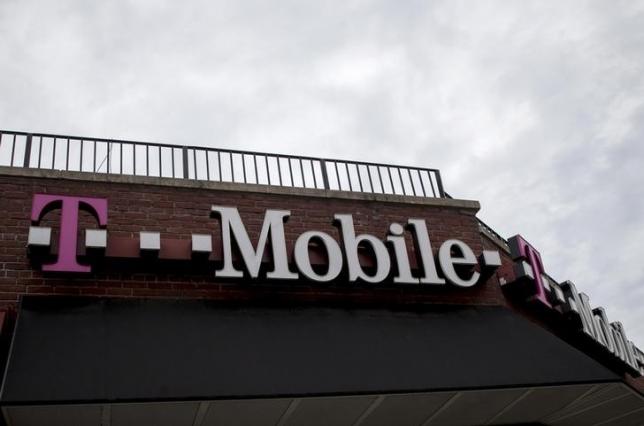 T-Mobile US Inc (TMUS.O) nearly tripled its profit in the fourth quarter as its "Binge On" video streaming service and lower-priced plans helped it add more than 2 million subscribers
The No. 3 U.S. wireless provider said on Wednesday that net income jumped to $297 million, or 34 cents per share, in the quarter from $101 million, or 12 cents per share, a year earlier. This surpassed the average analyst estimate of earnings of 15 cents per share, and the company's shares rose more than 1 percent in morning trade.
Total revenue rose 1.1 percent to $8.25 billion, beating the average analyst estimate of $8.20 billion.
To lure customers from rivals Verizon Communications Inc (VZ.N), AT&T Inc (T.N) and Sprint Corp (S.N), T-Mobile has launched offers like data rollover and lower-priced phone leasing plans in recent months.
In November, the Bellevue, Washington-based company launched "Binge On," which allows customers to stream video from services such as Netflix Inc (NFLX.O), on their mobile devices without having it count against their data plans.
"We aren't just winning customers, we're keeping them too," Legere said on an earnings call.
"Contrary to the belief that most of the donation (of subscribers) in the industry is coming from Sprint, it's actually coming from AT&T," he added.
T-Mobile added a net 2.1 million customers, including 1.3 million new monthly or postpaid customers in the three months ended Dec. 31. In 2016, it said it expects to add a net 2.4 million to 3.4 million postpaid customers, compared with the 4.5 million it added in 2015.
"Subscriber growth continues to be solid," MoffettNathanson analyst Craig Moffett said in a research note.
The company's average revenue per postpaid user (ARPU) fell marginally to $48.05 in the fourth quarter from $48.26 a year earlier, beating the $46.97 forecast by analysts polled by market research firm FactSet StreetAccount.
"T-Mobile was the only operator to not disappoint on ARPU, the monthly phone payments of its customers," BTIG Research analyst Walter Piecyk said.
The company plans to invest up to $10 billion to buy low-frequency airwaves in a U.S. government auction starting March 29. In addition to rivals Verizon and AT&T, it will go up against with Comcast Corp (CMCSA.O) and Silicon Valley investment firm Social Capital that have filed to participate.
T-Mobile shares, which fell about 7 percent this year through Tuesday, were up 1.1 percent to $36.84 in morning trade
Source: Reuters