Traders feel pinch over Central Bank rule on moving large cash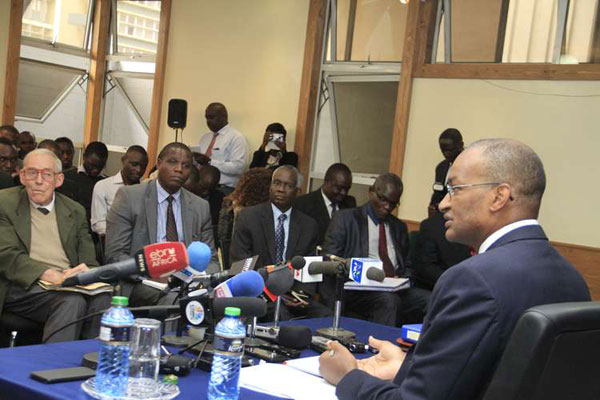 Kenyan traders are feeling the pinch of a directive by the Central Bank of Kenya (CBK) on large cash transactions as banks comply with the rule.
The Central Bank early this year wrote to lenders instructing them to have their customers complete forms explaining the nature of any cash transactions of Sh1 million and above.
A section of traders who spoke to the Sunday Nation said the rigorous rule has impacted on their planning for their businesses as banking processes have become rigorous.
"I am no longer able to cash proceeds from my business as efficiently as I would in the past as the rule has added several layers of bureaucracy," said a Nairobi-based clothes dealer.
I deal with huge sums of cash. Now I have to explain myself whereas I conduct many transactions," she added.
A businessman in Eastleigh who also sought anonymity said he had been forced to cut trips to the bank over the rigorous rule.
Bank representatives who were interviewed said long queues had returned to banking halls as banks strive to comply with the new rule which CBK introduced in a bid to stem money laundering, illicit money transfers and tax evasion.
CBK DIRECTIVE
Early this month lenders began writing to their customers urging them to adhere to the CBK directive.
"We would like to notify you of an additional prudential guideline issued by the Central Bank of Kenya (CBK) on 05/01/16, regarding large cash transactions processed over the counter. With immediate effect, it is now a mandatory requirement that all customers making cash transactions equivalent to or exceeding USD 10,000 or its equivalent, must complete an 'over the counter large transaction form' providing the details stated below," wrote Commercial Bank of Africa in one such notice to its customers.
Among the questions are a declaration of the source of money being deposited/withdrawn; whether the nature of their business generates substantial amounts of cash to support the large cash transaction; why the large cash deposit or withdrawal is necessary; why the cash deposit or withdrawal cannot be made through electronic means; and also where the money will be taken to from the bank premises.
Additionally, customers will have to state what the money is going to be used for, who are the direct and indirect beneficiaries of the money, including the full identity of the intended beneficiaries.
"In compliance with this CBK regulatory requirement, all CBA customers making a large over-the-counter cash transaction will be required to complete the form for each transaction," CBA explained in the notice seen by Sunday Nation.
"The regulatory introduction aims to reduce risks inherent with cash transactions and encourage the use of electronic payments which are an alternative and secure channel to process your payments."
MONEY LAUNDERERS
The noose began tightening on financial institutions and money launderers last November after President Uhuru Kenyatta called for tough penalties against individuals and institutions who flout anti-money laundering laws.
The measures include loss of licence for banks found culpable.
Despite Kenya boasting of a fairly advanced — by many global standards — anti-money laundering and counter-terrorist financing regulatory and legal regime, financial institutions continue to abet the vice giving authorities a headache.
In a similar directive enforcing scrutiny on cash transfers, thousands of new Kenyan bank account holders have been completing tax forms by the United States Internal Revenue Service as the noose on tax evaders in Kenya's diaspora tightens.
This is part of an inter-governmental agreement between the US and Kenya governments that was fronted by Washington under the terms of the Foreign Account Tax Compliance Act, which is designed to check tax evasion.
In his address to the nation from State House Nairobi last October where he outlined unprecedented measures to re-invigorate the war on corruption, the President said of the new push: "I have met with the Governor of the Central Bank of Kenya, and with the head of the Financial Reporting Centre, to discuss and agree with them how we can ensure the banking system is not used to launder the proceeds of theft and fraud."
Source: Daily Nation