Driving growth? The future of Europe's car industry
Nothing unites Europe more than its cars. Widely credited as the birthplace of the motor car, over the decades Europe has embraced the automobile not only as a means for economic growth and transport but for leisure and fun too.
The road traveled by the car industry in the European Union (EU) may not always have been smooth in the latter part of the last century but, as other heavy industries have fallen victim to competition from Asia and the U.S., car production is one of the region's "most enduring industrial activities," according to the European Automobile Manufacturers' Association (ACEA).
The latest figures from the ACEA published on Friday showed that new passenger car registrations in Europe marked their 31st consecutive month of growth in March, showing that car manufacturing and consumption is one of European Union's most robust and resilient industries.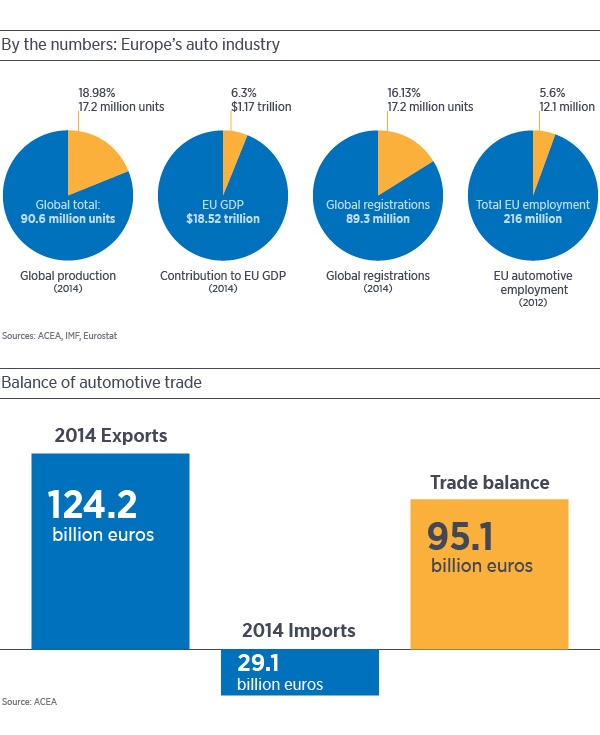 In March 2016, new car registrations in the EU increased 6 percent compared to March 2015, reaching more than 1.7 million units. In volume terms, this result is close to March 2007 levels, "just before the economic crisis hit the automotive industry," the ACEA noted.
Giving Europe a rare opportunity to gloat, among the major markets, Italy saw a 17.4 percent increase year-on-year, France a 7.5 percent rise and the U.K. a 5.3 percent rise. Car registrations dropped very slightly in Spain and Germany from the same month last year but the ACEA noted that with Easter falling in March this year, the number of sales days had been reduced. Meanwhile, "emerging market" economies such as Latvia and Lithuania saw whopping rises of 25.5 percent and 28.8 percent, respectively and Cyprus saw the largest increases in the EU, with registrations up 37.1 percent.
But while the numbers add up, Europe's car industry is nonetheless a hostage to the economic and political fortunes of the region.
Source: CNBC