Facebook users to make money from post
Facebook is exploring new ways for individual users to profit from their posts on the network, The Verge has learned. A user survey distributed this week hints at a broad range of ways that users could make money or promote a cause, including a tip jar, branded content, and taking a cut of the ad revenue Facebook earns from posts.
The survey also asked users to indicate their interest in a "call to action" button, a way to let followers make donations, and a "sponsor marketplace" to match users with advertisers. It's unclear whether Facebook is considering making these options available to all users; the language of the survey indicated it is targeted at verified users. The survey was spotted on the page of a verified user with a relatively small following. (OK it was me.)
Facebook does not currently offer individual users a way to earn money by posting on Facebook. It has allowed publishers to sell advertising inside its fast-loading Instant Articles format, and recently clarified rules allowing posts sponsored by brands to be shared by verified pages. Facebook is also testing ads within the suggestions that pop up after you watch a video, sharing money with publishers. But recently the company has taken steps to make its publishing tools more widely available. In February the company began letting anyone publish Instant Articles. "It's still very early, but we're committed to creating sustainable, long-term monetization models for our partners and we're listening to feedback," a Facebook spokeswoman told The Verge.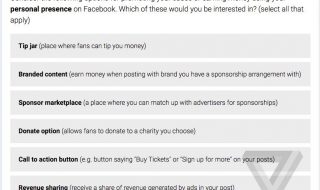 Facebook would not be the first social media platform to allow users to profit from their posts there. YouTube launched a revenue-sharing program for prominent users in 2007. Twitch, the streaming platform of choice for gamers, lets partners make money through revenue sharing, subscriptions, and merchandise sales. YouNow, a streaming platform popular with younger users, earns money by taking a cut of the tips and digital gifts that fans give to its stars. On platforms without partner deals, including Twitter and Snapchat, celebrity users often strike sponsored deals to include brands in their posts without explicit permission from the company.
Facebook's interest in monetization comes amid aggressive moves to become the dominant platform for real-time sharing — an area where it has suffered in comparison to Twitter and, more recently, Snapchat. In January, Facebook unveiled Sports Stadium, a hub for real-time discussion of athletic events — a historic strength of Twitter. More recently, the company has made an all-out push into live video, an effort that could blunt the momentum of Twitter's Periscope app and Snapchat's Live Stories. Unlike its competitors, Facebook is paying some publishers to bring their live videos to its platform — and publishers have leapt at the offer. (Vox Media, which owns The Verge, has a live video deal with Facebook.)
In that context, options for individual users to make money from their posts are especially interesting. To date, social networks have been able to grow to massive valuations while paying nearly nothing for the content that users contribute to them. Critics, led by virtual reality pioneer Jaron Lanier, have criticized the company for concentrating the wealth generated by users' posts rather than sharing it with them. Dan Rose, Facebook's vice president of partnerships, has spoken recently about the company's interest in creating various revenue-sharing deals with users — though to date, discussion has focused on users with big followings.
In any case, new options for generating revenue seems likely to draw more sharing to Facebook. Public figures with large followings who want to promote a cause or give fans a way of contributing to a project would suddenly have a low-friction, highly visible place to do so. And that might sap some lifeblood from Twitter and Snapchat in the process.
The survey's questions about monetization came as part of a larger set of questions aimed at asking people how they use their personal profile pages, what kinds of things they share there, and whether their Facebook friends comprise mostly real-life acquaintances or people the user has never met in person.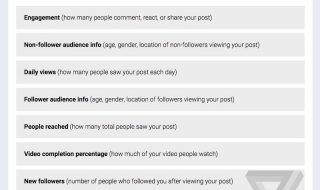 The survey also asks users what data about their Facebook presence would be most interesting to them. Options include data on what percentage of their videos people watch, how many new followers a post generates, and information about how post performance compares to others'. Typically data like that is interesting primarily to large brands and publishers, but it could be useful for celebrities and other public figures who are trying to understand their audiences. And as Facebook presses its chief advantage in social media — that is has the largest audience — sharing that data with users is likely to make rival services look puny in comparison.
Of course, it's only a survey, and Facebook could easily decide against introducing monetization options or analytics for users. The survey reflects a range of options, not a list of everything Facebook plans to do. And no product changes are imminent. But given the company's aggressive moves around real-time sharing, the survey suggests yet another way Facebook can wield its dominance. It's nice to get a "like." But it's a lot nicer to get paid.
Source: CNBC/THE VERGE