Investment banking is hit hard in the first quarter as deals and IPOs plunge amid volatility.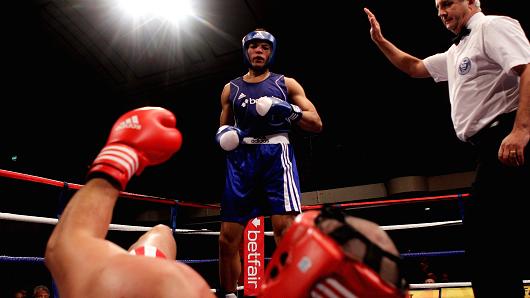 The biggest firms on Wall Street have first quarter profit reports on the books, and it's unanimous: Investment banking earnings were terrible to start the year.
Goldman Sachs made it official. All Wall Street banks saw double-digit drops in revenue from mergers and acquisitions, initial public offerings and debt underwriting.
Investment banking revenue at Morgan Stanley fell 18 percent; 24 percent at JPMorgan Chase; 23 percent at Goldman Sachs; 27 percent at Citigroup and 22 percent at Bank of America.
JPMorgan Chase led Wall Street with revenue from M&A, at $564 million, followed by Goldman Sachs at $512 million and Morgan Stanley at $465 million, according to financial services data firm Dealogic. No other investment bank generated more than $300 million in revenue from M&A, according to the report.
The IPO drought to begin the year was also painful for investment banks, which saw bigger year-over-year percentage losses in equity underwriting.
"Volatility kept issuers on the sidelines," JPMorgan Chase CFO Marianne Lake said on the bank's earnings call last week.
But amid an ugly earnings picture, dealmakers turned to soothsayers, telling analysts they believe better days are ahead.
"The level of dialogue there feels quite good," Goldman Sachs CFO Harvey Schwartz said Tuesday on the bank's earnings call, describing the bank's deals pipeline. "We'll see how it goes in the future."
There is, in fact, cause for optimism. Despite plummeting M&A, IPO and debt issuance figures year over year, markets abroad and in the U.S. have rebounded from lows earlier this year.
The surprise decision from the European Central Bank to stimulate the region's bond market led to a flood of investment grade issuance. Some of that business went to Wall Street banks, but in the U.S., both investment grade and high yield issuance have rebounded after a terrible start to 2016.
Last week, high yield bond issuance hit its highest one-week level of $10.9 billion, according to data from S&P Capital IQ. The sign of an appetite for a riskier class of debt is especially good news for Wall Street banks, which would benefit from an increase in private equity deals this year.
Jonathan Pruzan, Morgan Stanley's CFO, said Monday the bank is "seeing signs of life in the noninvestment grade markets," and he expressed cautious optimism that equity underwriting volumes would grow in the second half of the year.
Source: CNBC