Kinyua sues Raila over Eurobond claim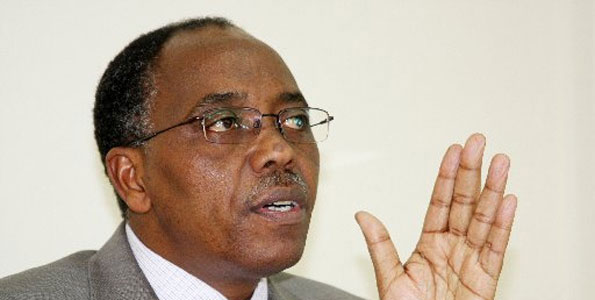 President Uhuru Kenyatta's chief of staff, Joseph Kinyua, has made good his threat to sue Opposition leader Raila Odinga for naming him among top government officials alleged to have made Sh34 billion from illegal trading of Eurobond proceeds.
Mr Kinyua, also the head of Public Service, filed the suit at Nairobi's Milimani courts last Wednesday, seeking orders compelling Mr Odinga to compensate him for damages caused by statements he insists were false. The State House official also wants the court to decide how much Mr Odinga should pay him in compensation.
Mr Kinyua says Mr Odinga in January claimed that he (Mr Kinyua) is among government officials who shipped out Sh88.5 of Eurobond proceeds to trade in foreign stocks, a move the former prime minister alleged earned them Sh34 billion profit.
Mr Kinyua says Mr Odinga has failed to provide any evidence since making the accusations, and that the claims were aimed at tarnishing his 37-year public service career.
In mentioning Mr Kinyua adversely, Mr Odinga neither made any attempt to provide any substantiation of Mr Kinyua's alleged role in the alleged scandal nor the slightest effort to verify the accuracy of the defamatory statements. By reason of the words uttered, Mr Kinyua has been severely injured in his standing as a long-serving public servant," Mr Kinyua's lawyer, Ken Ogeto, says in court documents.
Mr Odinga, who heads the opposition Coalition for Reforms and Democracy (Cord), is yet to file a response to the suit.
The High Court's civil division deputy registrar has issued a summons to Mr Odinga, compelling him to either enter an appearance within 15 days or risk having the case proceed without his presence.
Mr Kinyua also wants Mr Odinga compelled to issue a public apology to him for the statements in dispute, and to settle the costs the head of public service will incur in prosecuting the defamation suit.
Other individuals Mr Odinga named as key players in the alleged scheme were Treasury secretary Henry Rotich, Treasury principal secretary Kamau Thugge, Central Bank of Kenya (CBK) chairman Mohammed Nyaoga, John Birech, the director of financial markets at the CBK, Moses Muthui, the manager of financial markets at the CBK, and Controller of Budget Agnes Odhiambo.
Also in the list were Bernard Muiruri Ndungu, the chief accountant at the Treasury, Julius Kilinda of the Accounting Unit at the Treasury, and former CBK governor Njuguna Ndung'u.
Mr Kinyua, a former permanent secretary in the Finance and Planning ministries, is the second of the named individuals to sue Mr Odinga after Mr Nyaoga took a similar action barely 10 days after the Cord leader linked him to the alleged theft.
Retraction of statement
Mr Kinyua says he sent Mr Odinga a demand letter seeking a retraction of the statements he says are defamatory, but the former Prime Minister has refused to comply.
"Mr Odinga uttered the defamatory words in the face of all evidence that I had no knowledge of and had nothing to do with the alleged scandal. He issued the defamatory words having established that the prospect of any political advantage gained would outweigh the prospects of material loss as a result of defaming me," Mr Kinyua adds in his filings.
Kenya in June 2014 offered a $2 billion bond in two tranches of $1.5 billion over 10 years and a five-year $500 million bond whose proceeds it deposited in JPMorgan Chase, New York.
Source: Business Daily Africa