StanChart says bonus issue will boost stock liquidity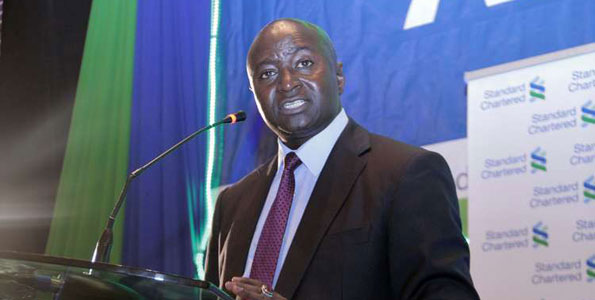 Standard Chartered Bank Kenya's upcoming issue of 34.3 million bonus shares will boost the stock's liquidity and could obviate the need for a share split, the lender's CEO Lamin Manjang has said.
Retail investors in the Nairobi Securities Exchange-listed firm have in recent years pressed for stock splits and bonus shares, arguing that the bank's shares have become "expensive".
StanChart's share price reached highs of Sh350 last year, making it the most expensive stock at the Nairobi Securities Exchange (NSE) in nominal terms. Small investors, who have sometimes needed upwards of Sh35,000 to make the minimum investment of 100 shares in StanChart, focus more on the investment threshold and ignore valuation including total issued shares.
"We have responded on the issue of bonus shares. We believe that is the right thing to do," Mr Manjang said in an interview. The bank's share price has dropped 27 per cent over the past one year to trade at Sh250, pulled down by weaker earnings and the general bear market.
The proposed bonus share issue, to be allotted to shareholders who will be on the register this Friday, is expected to further bring down the nominal share price in the coming weeks.
Trading of the extra shares could reset the price to Sh225 based on the current stock price to maintain the market capitalisation of Sh77.2 billion.
StanChart has proposed a bonus issue of one new ordinary share.
Source: Business Daily Africa