Victoria Kwakwa, women rising at the World Bank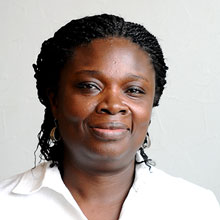 Victoria Kwakwa assumed the role Vice President for the East Asia and Pacific on April 15, 2016. She oversees a portfolio of more than $32 billion in loans, grants, credits, and trust funds across 23 countries.
Ms. Kwakwa leads the World Bank's strategy in East Asia Pacific which focuses on five priority areas: inclusion and empowerment; jobs and private sector-led growth, governance and institutions, infrastructure and urbanization, climate change and disaster risk management. The Region also focuses on the cross-cutting themes of gender, fragility and conflict and poverty analytics.
Ms. Kwakwa was previously the World Bank's Country Director for Vietnam, overseeing a multibillion-dollar lending portfolio and an innovative knowledge program, including the recently published Vietnam 2035 report. This report, prepared jointly with the Government of Vietnam, presents options for Vietnam to achieve its ambitious goal of becoming an upper-middle-income country in a generation.
Before moving to Hanoi, Ms. Kwakwa was the Country Manager for Rwanda for two years, where she worked with the government to design and pilot programs in social protection, health financing, and agriculture productivity.
From 2000 to 2006, she was a senior economist and lead economist in Abuja, Nigeria, where she set up a program of state-level analytical work and provided policy advice on how to efficiently and transparently manage oil revenues.
Ms. Kwakwa joined the Bank as a Young Professional in 1989 and worked on the 2000-2001 World Development Report on poverty. She earned her doctorate and master's degree in economics from Queen's University in Canada.
Source: World Bank