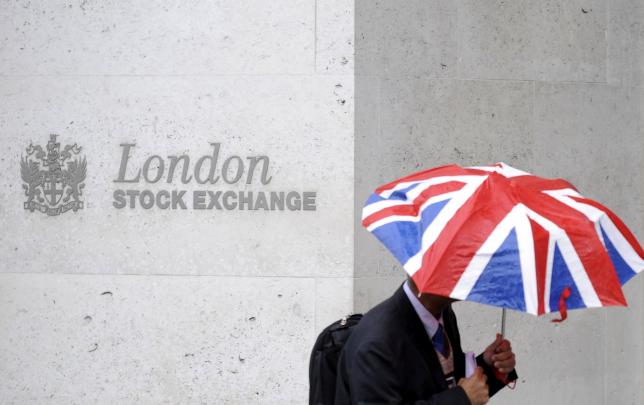 Britain's top shares index retreated from a 10-month high on Monday as weaker property and housebuilding stocks weighed on the market and halted its rebound from a slump caused by the United Kingdom's decision to leave the European Union.
The blue-chip FTSE 100 index .FTSE, which rose in the past four straight sessions, closed 0.8 percent lower at 6,522.26 points, after climbing to its highest level since August 2015 earlier in the day.
While the FTSE 100 has recovered since June 24, the index remains down by more than 8 percent in U.S. dollar terms since the vote, as the slump in sterling has reduced the value of the British market in dollar terms.
Property stocks British Land (BLND.L) and Land Securities (LAND.L) were the worst performers, down 7.1 percent and 5.7 percent respectively, while housebuilders Persimmon (PSN.L) and Taylor Wimpey (TW.L) fell 7.8 percent and 6.3 percent.
That sector was hit as data on Monday showed Britain's construction industry suffered its worst contraction in seven years in June as concerns over Britain's vote on quitting the EU intensified.
"Although short term stock market gains may be realised as expectations inflate over central bank intervention, the key fundamentals and ongoing concerns which have punished global stocks still remain intact in the background," said FXTM research analyst Lukman Otunuga.
The FTSE 100 initially fell around 6 percent after the referendum result on June 24 showed Britain had voted to quit the EU, a result which pummelled sterling GBP= on currency markets.
The market recovered last week, helped by expectations of more central bank help to stabilise markets. It has also been aided by the fact that a weaker sterling can help the FTSE's international companies, since a weaker pound can help British companies export overseas.
Nevertheless, several analysts remained cautious over the market outlook, given the risks generated by Brexit, with the British economy expected to weaken as a result.
"At the moment, we have seen selling at these levels, reducing exposure into any rallies that present themselves such as the recent move higher in GlaxoSmithKline (GSK.L). Many are opting to sit in cash, waiting for a market pull back," said Lewis Jones, stockbroker at Cornhill Capital.
On the positive side, precious metals miners set new peaks, tracking gains in gold and silver prices, with Randgold Resources (RRS.L) climbing to a record high and Fresnillo (FRES.L) at its best level since late 2012. Their shares closed 4.4 percent and 7.7 percent higher respectively.
Randgold shares have spiked 120 percent so far this year, while Fresnillo has jumped 166 percent.
credit. Reuters