Rand scales one-week peak, stocks also firmer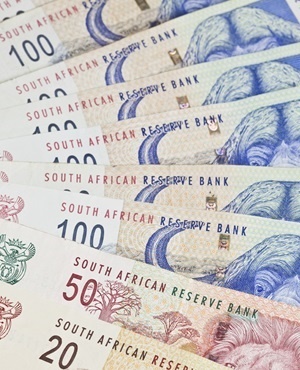 Johannesburg – The rand reached its strongest level in more than a week to the dollar on Monday and was still on track to recoup the losses suffered after Britain voted to exit the European, leading to a global risk sell-off.
Stocks were firmer for a fourth straight session, boosted by resources companies as investors piled into safe-haven commodities to avoid volatility in Britain politics.
The rand climbed to 14.4600 against the dollar before pulling back in late Johannesburg trade. By 15:09GMT it was at 14.5660 to the greenback, largely in line with Friday's close.
The rand, like other high-yielding emerging market currencies, has regained its footing after the June 23 Brexit vote triggered a stampede from riskier assets, partly buoyed by expectations that global interest rates could remain low for longer than earlier expected.
Standard Bank analyst Walter De Wet said: "We still see fair value for the rand within the 14.50–15.00 range.
"But local event risk remains and we are reluctant to transpose recent strength into the future just yet."
Platinum producer
Government bonds also edged up on Monday, with the yield for the benchmark instrument due in 2026 ending the day 1 basis point lower at 8.685%.
On the bourse, the Top-40 index rose 0.03% to 46 027 points while Johannesburg's All-Share index inched up 0.18% to 52 454 points.
Bullion producers Harmony Gold [JSE:HAR]rose 8.8% to 59.58 rand while platinum producer Lonmin [JSE:LON] edged up 7.09% to 43.37 rand.
"The major movers are resource stocks on the day but that is to be expected with the uncertainty in Britain. In the short term you will see gold rising as there is a flight to quality," Independent Securities trader Ryan Woods said.
Trade was slow, with 191 million shares changing hands compared to last year's daily average 280 million shares as US markets were closed for July 4 holiday.
Credit: Fin24