31 Branding Thoughts Conclusion Day 26-31 By Bernard Kelvin Clive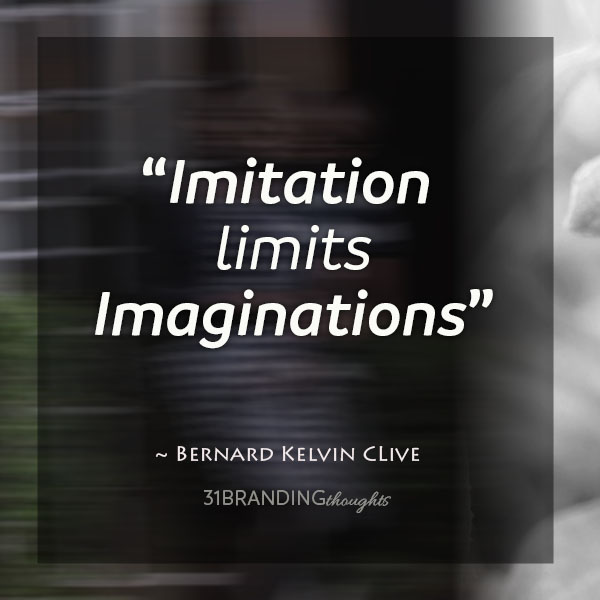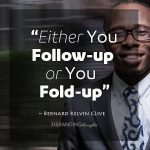 #Day 26 of 31  Follow-ups "Either you follow-up or you fold-up" – BKC
In doing business today in a global competitive crowded market, one most often forgotten skill and strategy for brands to thrive is – Follow-Ups.
Quite often, at business networking meetings, many are quick to exchange business cards but rarely do follow up. Anytime you fail to follow up on contacts you made from such meetings, the probability of never calling those contacts is very high. You may be leaving lots of businesses on the table if you don't get in touch sooner. My rule of thumb has always been to contact people within 24hours after such meetings; using any medium possible to make a quick contact. It could be via email, text, social media, etc, just do it.
Let me ask you this, how often do you return those missed calls, text, and emails? The average individual and brand do not really care. Ethically, it's uncouth to not respond to mails/texts or return missed calls. From a brand and business perspective, you might not even know who you may be losing or what contracts you may be letting go.
Remember, many other businesses and brands are competing for your current and potential clients. Don't lose them to your competitors. One simple contact can greatly transform your business and brand.
I have instituted 'Follow-Up-Fridays' where I follow up with emails (thank you notes), text messages and calls to potential and existing clients. This is to keep business coming in and to stay top-of-mind to clients and business partners. Try it and let me know.
Today, pick that phone and make that call, send that email, reply to that text – follow up, if not you will fold up!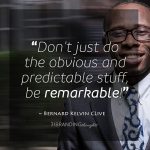 #27 of 31. Trends "Don't just do the obvious and predictable stuff, be remarkable!" – BKC 
Isn't it amazing how Individuals, Brands, and businesses love to trend, especially in this social media-driven era; it creates more visibility for the brand and eventually may bring in some businesses to these brands.
Many may desire to trend for their own reasons – good or bad, as a brand, my advice has always been to focus always on producing value in a distinctive way to your market. To constantly be occupying a place in their minds.
Trends mostly begin by an individual or group of people who decide to break rules and do the uncommon and unconventional stuff, and then gradually others join in the movement.
The question for you today is, what are you doing differently, what new paths are you beating, how do you intend to trend?
To trend, don't just do the obvious and predictable stuff as a brand, be unpredictable, do the unconventional.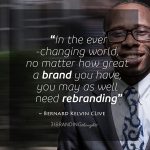 #28 of 31. It's Time to rebrand "In the ever changing world, no matter how great a brand you have, you may as well need rebranding" – BKC
As you seek to build an impactful brand and business, in your process and journey you may have the need to rebrand in a way to help establish your brand, gain more visibility, reposition, reach new markets, etc . It could be a change of name, identity redesign, logo redesign, etc
Here are some reasons why companies rebrand
• Company acquisition or merger: If a company is being acquired by new owners or merging with an existing company that calls for a rebrand.
• Globalization: when a company wants to go international and another company which bears the same name exists, they might strongly consider rebranding.
• Repositioning: When the company wants to reposition in a particular market and also focus on a different product line and caliber of customers.
• Vision: Where a company decides to change its vision and mission which is tied to the company's name, a change of name to reflect its new identity would be required.
• Bad Reputation: When a company has suffered serious brand damage to its reputation, one way to recover is to totally rebrand the company.
• Similar Identity: When you discover that your company name, logo, slogan is has a close resemblance to an existing company, especially a competitor, then its' best to rebrand. In this particular instance, both companies being in the same local market.
Here a few questions worth answering before you rebrand:
– Why do you want to rebrand?
– Who are you trying to reach?
– How will the rebranding help reach your market?
– How will you transition from the old to the new?
– What would you be doing differently?
– How will you monitor and track the changes and growth?
– How will you communicate your rebranding to the media and existing clients?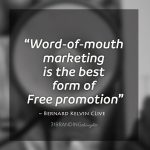 #29 of 31. Share this! "Word-of-mouth marketing is the best form of Free promotion" – BKC
Brands and businesses will always require promotion in one way or the other. And the best of free, worthy promotion is one that comes from friends and consumers; a trusted person.
One may spend so much on brand promotion which may yield considerable results but no channel of promotion can be likened to word-of-mouth marketing. As an author, speaker and trainer, 'Word-of-mouth' has been one of the major channels that have brought lots of businesses to me all these years. You may ask. How do you gain word of mouth marketing?
Simply, do remarkable stuff:
– Provide quality products and services
– Offer excellent customer services
– Make your business user-friendly
– Always Text and call back
– Carry a smile for your personal brand
– Over deliver on your promise value
– Be kind to others – especially strangers
– Give away gifts, discounts, coupons etc
– Do a social activity. Eg. Clean up, feeding the needy
– Sponsor an event
– Provide solutions always (esp. on social media, answers to questions)
– Try and reach an unmet market with your product and services
– Honour(reward) consumers who refer businesses to you
– Constantly follow up
– As much as you can, treat every customer as a VIP
Best part, be yourself! Avoid unnecessary competition.
Remember: "Word-of-mouth marketing has been and will always be rated five-star. The best of Free promotion"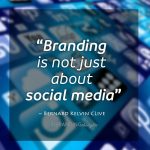 #30 of 31. Social Media Branding "Branding is not just about social media" – BKC
In a social media-driven world, it's quite easy to assume that everything is about social media. This has made people believe all sorts of things that should not have been believed in the first place.
In reference to branding, a number of books and articles online have skewed branding towards social media, more especially the subject to do with 'personal branding' – instructing readers on setting up social media accounts, and making them visible, yadda yadda… I addressed that in my book "The Art of Personal Branding".
The truth is this; social media can be used by individuals and companies to virtually promote their brands. But when the subject of branding is almost replaced with social media activities, that becomes a problem. Because it will mostly lack the depth of branding.
Social media shouldn't be the starting place; It is only a Channel that individuals and brands can utilize to establish and promote their businesses.
A quick rundown on the rudiments of branding:
– An emotional empowering connection people have with you and your firm
– It's made up of both the intangible and tangible things
– It's more intangible than tangible
– Brand identity, Logo, colours, style
– Tone of voice, values, vision and mission
– Uniqueness, a differentiation factor
With this said, when you find out that your focus is only on social media as a brand that becomes erroneous, quickly re-strategize. Social media is not branding, it's only a tool to help position, promote and engage your audience online. It doesn't replace the branding process or its meaning.
As a brand, your focus is to ensure that you use these channels of communications effectively to your advantage, most importantly the channels that can best help you reach your target audience.
If it's social media, then, make the most of it.
Here are few social media branding tips:
– Choose your platform properly; which platform can help you reach your market
– Have a clear purpose of being on social media
– Develop a social media strategy and campaign
– Make your brand visuals appealing and consistent.
– Be consistent with your message, not forgetting your brand's tone of voice
– Engage! Engage!! Engage!!!
• Don't just broadcast, it's a two-way communication channel
– Listen to your audience and respond to their needs
– Deliver on your brand's promise!!!
With these few tips, you can move your brand online upwards!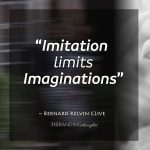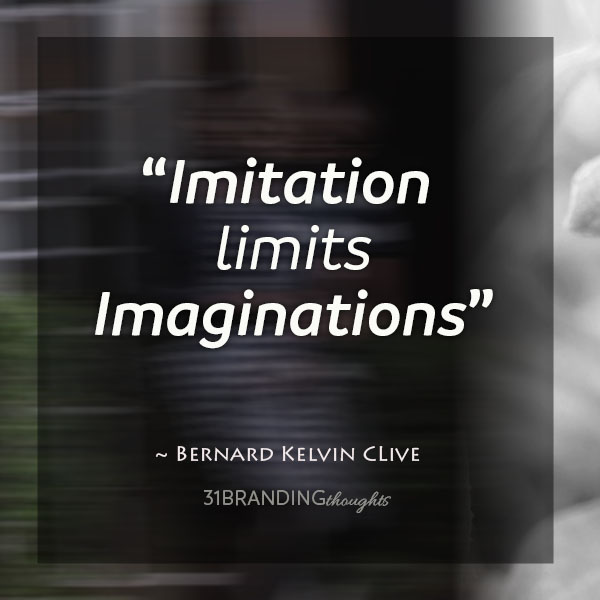 #31 of 31. Brand imitations "Imitation limits imaginations" – BKC
How to protect your brand from being copied, imitated.
It's said that "Imitation is the sincerest form of flattery", well, wait till your original idea, product, or invention is copied, then you will know that it's not flattery.
Yea, we all learn and pick ideas from others, but for someone to totally copy and worse off to claim that as the originator is heart-breaking.
Almost every great brand around today has a fake version of its products, identity or service in the market. Sometimes those imitated products are so close to its original that one finds it difficult to decipher. Think of brands like Nike, Adidas, Samsung, and Apple, just to name only a few. Scan through your local brands and you will sure find and imitated version of a brand.
One of the major plaguing challenges of brands has been to protect their brands from being imitated. (Can much be done? Well to some extent, especially legally)
Here are few things to do to protect your brand:
– Seek a professional legal advisor.
– Copyright your intellectual properties
– Get trademark for your brand identity (logo, name)
– Patent your inventions
– Monitor your brand both online and offline for abuse and misuse
– Register a domain name for your brand
– Get your names secured in social media channels
– Make your brand identity distinct and identifiable
– Report any imitated version of your brand to the right authorities. (Digital Rights Management, Copyright offices, etc.)
To round up;
Understand that copyrights & trademarks are territorial and not automatically internationally applicable. So, get your brand, products & services copyright/trademark in your local country and other countries where need. It's advisable to join professional bodies, as they offer some level of protection for your brand in other jurisdictions.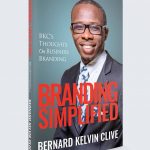 Finally, I recommend my book: BKC's Thoughts On Business Branding 
Remember: 'imitation' is one letter off 'limitation'
CONTRIBUTOR: Bernard Kelvin Clive #BKCConsulting www.BKC.name/consulting