31 Branding Thoughts Day 9-16 by Bernard Kelvin Clive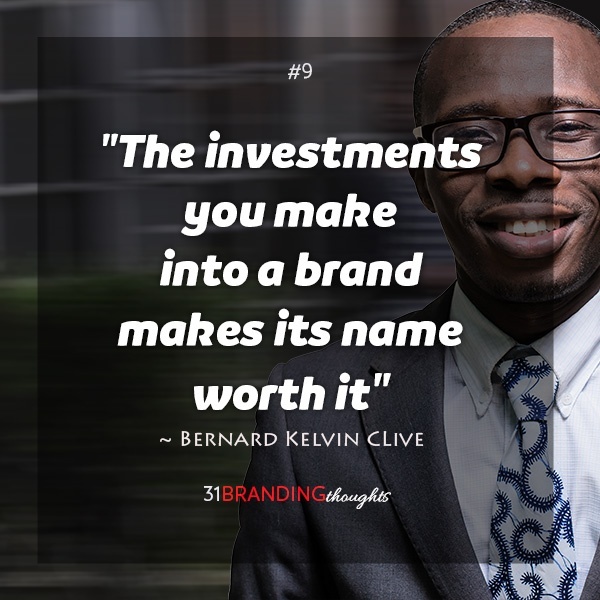 #9 of 31."The investments you make into a brand, makes it name worth it" – BKC 
Did you know that the famous brand name 'Google' was actually a misspelt word 'Googol"?
Now, let's get started.
It sounds good in the ear to have sweet brand names that rhymes and charms but that alone will not make your brand jive.
Some few thoughts to debunk; in choosing brand names, some experts suggest having a name that can be pronounced easily, really? Not so much of that, it does some good anyway, but the point is if your brand name isn't jaw-breaking but your brand doesn't deliver on its promise you will fail. Let's throw in some few examples, illustrate the point that the investments made into brands go beyond its name.
Having a fairly easy relatable brand name for your products and services is great but most importantly focus on delivering on your brand promise. That will cause the name to rise above the crowd.
Who would have thought that an automobile brand like 'Mitsubishi' can make it at the marketplace. Quite a heavy name to pronounce, what do you say? At the end of the day, a brand is mostly known by either the brand's name or its logo. However, it doesn't come that easily. It requires a deliberate effort to communicate the brand's value in order to make the name.
Just coming up with just any name is not the best, a name that can sell your brand and a name that will be worth your investments.
The funny parts of brand names are that a name that may mean well in one country and culture may mean something totally the opposite, sometimes even with negative connotations. A simple example is packaged black pepper sauce in Ghana called 'Shito" in the local language, the same word in English without the last letter sounds disgusting, doesn't it? 'Shit'. Another example is a spice made in Jamaica called "Cock Flavored' that supposed to mean chicken flavor, but in America and modern slang the word 'cock' implies 'the male reproductive organ'.
So, it's very important to do a little research into your brand names before going out there with it, especially if you want to cross borders.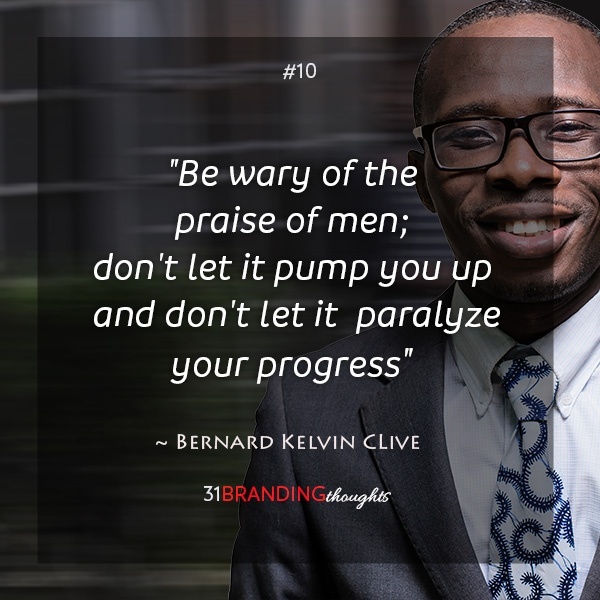 #10 of 31 Praises & Criticisms
"Be wary of the praise of men; don't let it pump you up unnecessarily and don't let it paralyze your progress" ~ BKC
If you do remarkable stuff, your brand will rise. When your brand begins to build traction and soar, be careful you don't lose your focus and fail. Many will praise and recommend your brand to others, however, don't permit those praises to pump you up. Others will criticize you, even for your exceptional brand products and services, but don't permit the criticism to cut you down.
Down dwell too much on your success, let them urge you on but don't settle with that. Successful brands keep pushing on every side to stay on top of the game. Failures or criticism will always be part of the learning curve, embrace them and leap forward.
It's your ability to prudently handle praise and criticism that will determine the success of your brand.
Here are few ways to deal with criticism of your brand on social media:
– Firstly, note that no brand is immune to criticism, they will come.
– Ensure that you have your facts right before you respond.
– Don't take things too personal, especially if it's not in favor of your personal brand or business
– Don't be in haste to respond to them, try as much as possible to understand the complaints, empathize.
– Offer genuine response , be patient and loving
– In few instances, you can choose to ignore but that will be the worse thing to do, try to respond in a more positive light; warm and welcoming. NB: consider your brand's tone of voice.
– Sometimes you may consider having a private chat with the critic; if you need to call, tweet, chat or email them, do so politely. I have realized that if this is done properly you may win them over forever as your brand advocates.
Seek balance to grow your brand.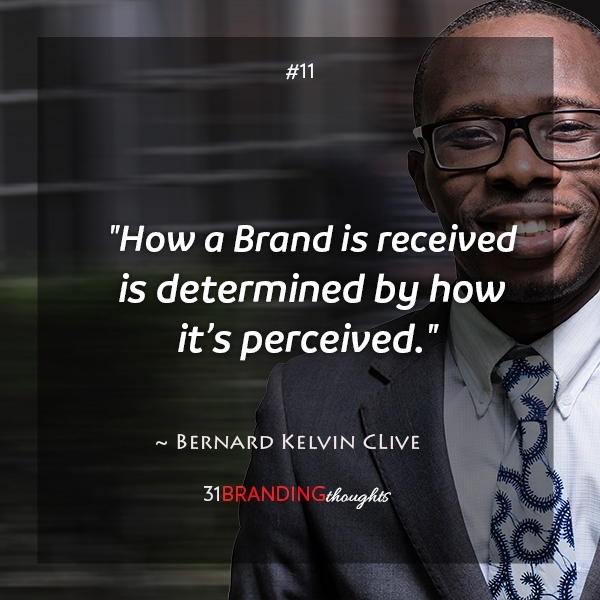 #11 of 31 "How a brand is received is determined by how it's perceived" – BKC
Brand Halo Effect:
The halo effect simply means how you perceive a person or brand influences the way you receive them. It's an effect on first impressions, how people perceive your brand will determine how they will receive your brand.
A brand's Halo effect can have both positive and negative impact on the brand's products and services. This is because once a buyer's mind is made up about you and your brand, chances of changing that becomes quite difficult.
In other words, every brand carries a presence – an aura, which either repels or attracts people.
Quick tips to use the Halo Effect to your advantage:
– Look good, dress well, smell good.
– Package yourself well at all times.
– Package your products with excellence
– Encourage clients to talk about your brand positively.
– Have a clean, responsive, professional websites.
– Get professional designs on your social media pages.
Never take chances on how you look and sound online, in pictures, audios and videos; be your best self at all times.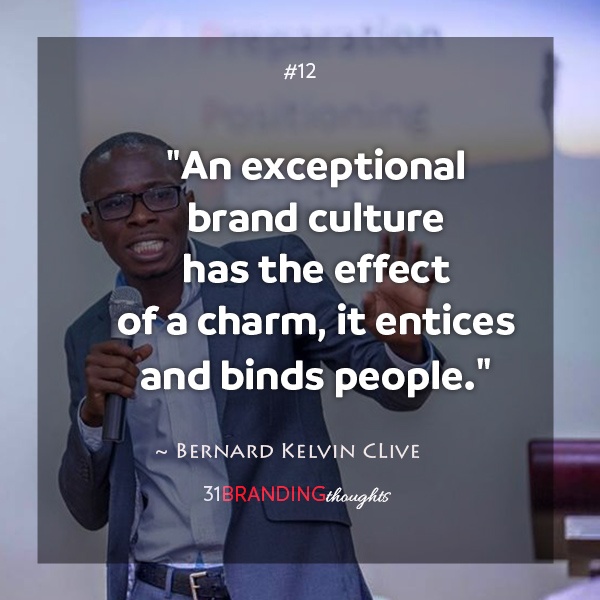 #12 of 31 Brand Culture "An exceptional brand culture has the effect of a charm, it entices and binds people" – BKC
A brand culture is a set of beliefs, symbols and values accepted and practiced by a company to enhance its brand experience by consumers. Brand culture has to do with the set of values, principles and ethics the company believes in and lives by.
While it's okay to have a good product and service in this age, having just a good product is not enough because there are dozens of companies offering same products and services. So, to be remarkable, one must aim at building a sustainable brand culture that will hook consumers.
This culture should be experienced internally and externally. It must provide staff and consumers with a sense of pride, belonging and bonding.
Take a look at the Apple brand; it is arguably a good brand of electronic products, however, the pride and class associated with an Apple product are what makes consumers and Apple fans stick.
To build an effective brand culture, focus on not just providing quality products and services, but a user experience worth recounting. Harley Davidson motors just don't offer another motor bike but a community, a sense of belonging. Does your company have a brand culture? If so, what is it? If not, consider creating one to sustain your brand. Think of emotional connections, causes, stories, rivalries and niches in creating your brand culture.
The bottom line is this: consumers no longer want to buy just a brand, they want to be associated with the inner values exhibited in those brands, they want a sense of meaning, they want connection.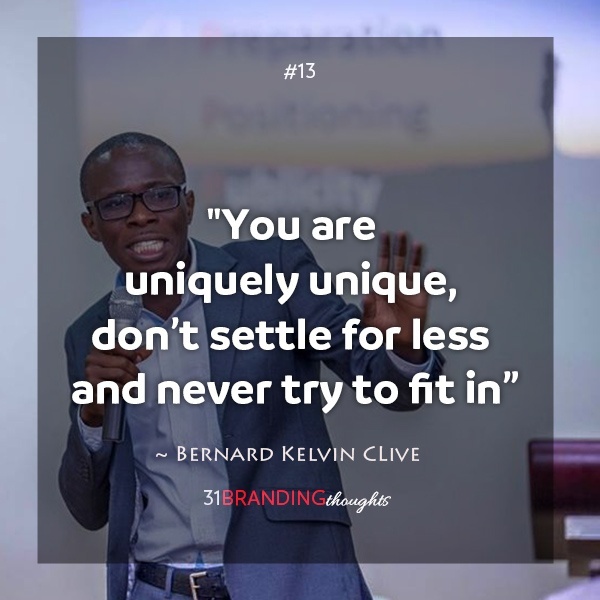 #13 of 31 Personal brand "Your self-worth is not dependent on your social media clout: number of fans, likes, tweets, shares, cures and comments" – BKC
Your personal brand's worth is based on your uniqueness, your giftedness, your assignment on earth. You are special and valuable regardless of any external add-ons. You are special, live as such. Let your brand shine!
Your personal brand hacks:
– Believe in yourself and be your best self
– Focus on your strengths and not your weaknesses
– Believe you have something of value to offer (post, tweet, blog about it)
– Share your expertise with confidence (on social media)
– Use your expertise, gifts, and talents to help more people(posts, tweets, blogs)
– Use your 'brand halo effect' positively
Remember: "You are uniquely unique, don't settle for less and never try to fit in." —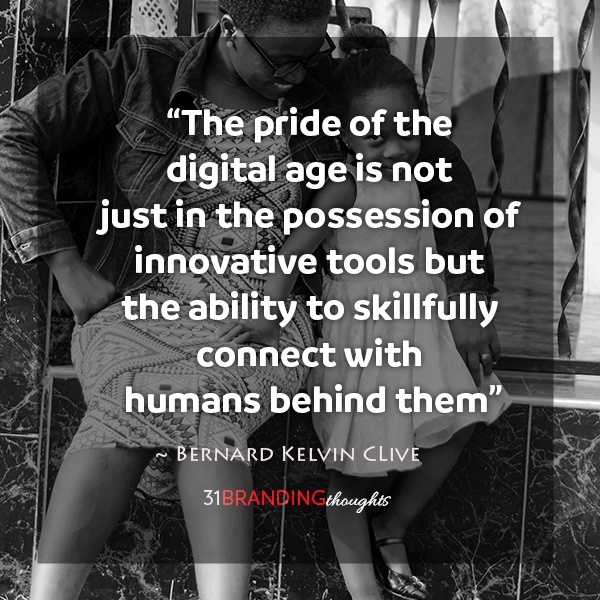 #14 of 31 "The pride of the digital age is not just in the possession of innovative tools but the ability to skillfully connect with humans behind them" – BKC
It's fascinating to see how technology has revolutionized the world of marketing and branding, however, the state-of the-art tools and technology wouldn't do much good if we fail to truly connect with people we are trying to reach behind those tools.
To gain a competitive advantage for your brand and business in this connection economy, one has to develop the skill of connecting and relating effectively with people; because it is people behind the electronic devices that will do business with you.
Brands that have learnt to connect emotionally with their fans and followers are the ones that thrive.
Here are a few questions to ponder:
– How are these tools being utilized to reach the said market?
– What monitoring measures do you have in place to ensure you are reaching your audience?
– Are there any hindrances with the use of these technological tools?
So, today, begin the journey of connecting with the faces behind the gadgets.
NB: Don't let technology become a brand barrier.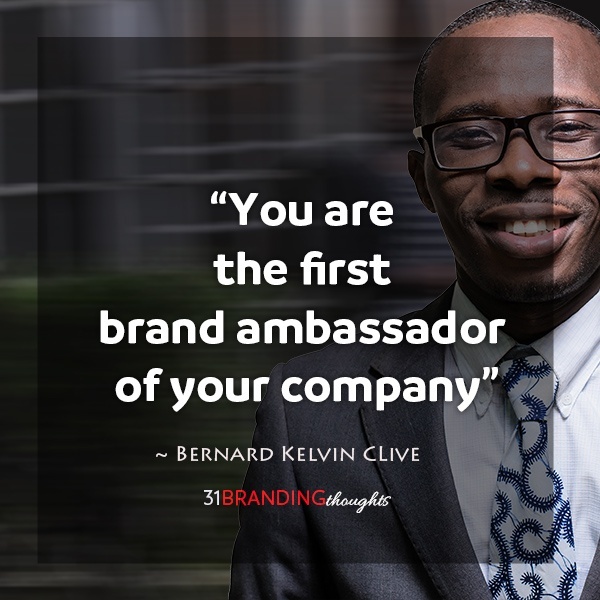 #15 of 31 CEO Brand Ambassador "You are the first brand ambassador of your company" – BKC
The idea of promoting one's brand sometimes seem a herculean task for quite a number of people, especially introverts. Others push it over to their marketing department to market the brand.
However, in today's business, every single person is part of the marketing and promotion of the brand. If you don't believe in your brand nor invest in it, nobody would. More especially startup brands, you as the CEO will be the face of your brand.
I have identified two types of CEOs;
1. The visible CEO- those who lead from the front – they are loud and want to champion the brand progress. A typical example is Richard Branson of the Virgin Group.
2. The hidden CEO- they don't want to be seen in the limelight; they want to quietly influence from behind. An example is Osei Kwame Despite of the Despite Group of companies.
Either way, they will all deliver to ensure the success of the brand and business. What type of CEO are you and how can you use your style to effectively promote your brand?
Whichever you may be, endeavor to use it to push your brand forward. Remember: People will buy into you and your vision first before your brand and business.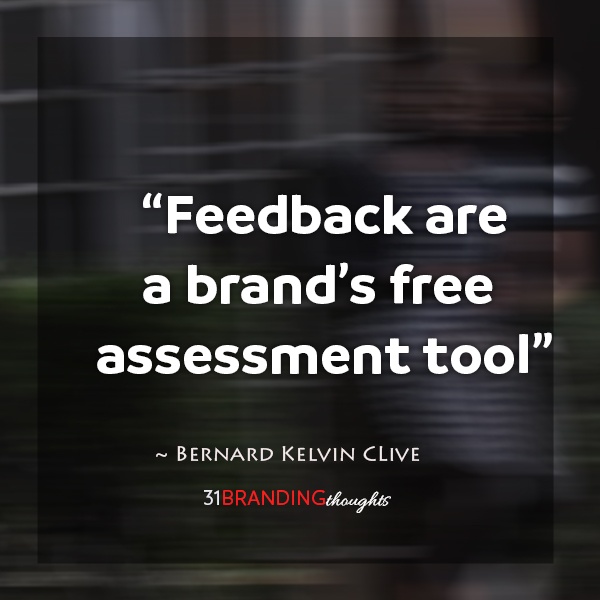 #16 of 31 "Feedback are brand's free assessment tool" – BKC
The fastest way to look back in retrospect and assess your brand's performance is to get feedback from your clients. Feedbacks are a great way to evaluate your brand.
The truth bitterly spoken is this; not all feedbacks will be encouraging and empowering, some will come as a shock to rebuke and correct you. Learn to take all in good faith. It's what you do with those feedbacks that matter.
Some brands have successfully used feedback from their customers to launch a new line of products, improve existing ones and made the whole brand experience a wonderful one.
It's a continuous cycle that must be kept running.
For startup brands, feedback is a great
way to help you launch your products and services successfully.
Here are few ways to gather customer feedbacks:
– Ask for feedback, in your store, office, workplace. Encourage clients to give you feedbacks
– Provide means of feedback, eg. Online feeback- have a feedback form on your site.
– Use emails, send questionnaires.
– Social media; read comments, listen to clients' needs and wants
– Always and always ask at the end of every sale or pitch.
– Outsource the feedback process to another firm.
– Provide online surveys and reward those who do participate
It's not enough gathering feedback, the next process is how to translate this feedback to a more meaningful data to enhance customer relations and also provide quality products and services.
As a speaker and author, I mostly ask my audience and readers to send me a review, after every workshop or at the end of reading a book, this has helped me better some of my presentations and books and some fans/clients have been proud that some of their suggestions have been put to a good use. My book "REWRITE: 7 Obstacle Every New Author Must Overcome" was birth out of feedbacks from my monthly publishing workshops – Digital Publishing School.
After receiving feedback, it's up to you to analyze and filter them, what can be acted upon immediately, the ones to ignore and the ones that require immediate or future action.
Remember: Feedback is a means for brands to look back.
Bernard Kelvin Clive – BKCConsulting www.BKC.name/consulting
—
Bernard Kelvin Clive Personal Branding Coach/Brand Strategist at BKC Consulting, Lifestyle Entrepreneur, Amazon bestselling author of twenty-five published books. Ghana's foremost authority on Personal branding and Digital Publishing who hosts the #1 ranked Business & Career Podcast in Ghana/Botswana. Skype ID: bernardkelvin | Tel: +233244961121 | www.BKC.name