31 Branding Thoughts from Day #17-25 by Bernard Kelvin Clive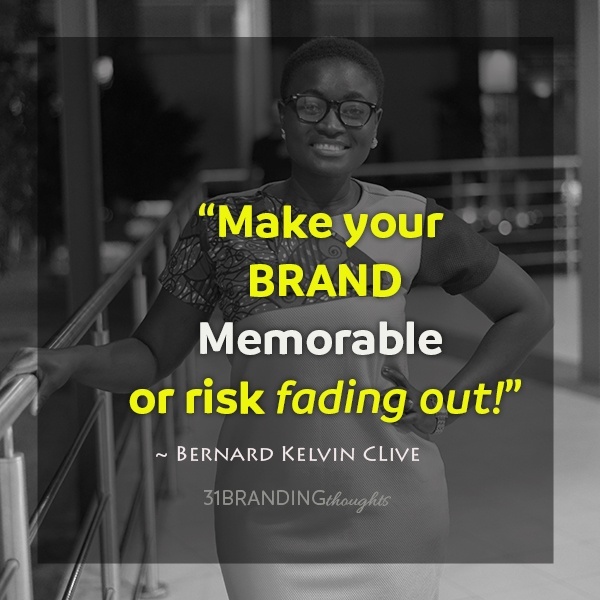 #17 Memorable "Make your brand memorable or risk fading out!" – BKC 
Consumers are making purchasing decision every day, swamped by thousands of brands to choose from, your goal as a brand is to make their decision easier and faster by cementing brand in their memory.
Most often than not, consumers decide based on what they might have seen, heard, experienced, and also by referrals.
What makes certain brands stick and others not?
The fact is what makes your brand stick and tick is your ability to make it memorable.
Here are few ways to help you make your brand memorable:
– Make it easier for them to remember you
– Make your brand identity visible everywhere that matters
– Share a brand story your audience can relate with.
– Promotion! Invest in media channels that will get you the attention you need.
Remember to always create top-of-mind-awareness in the minds of your target market.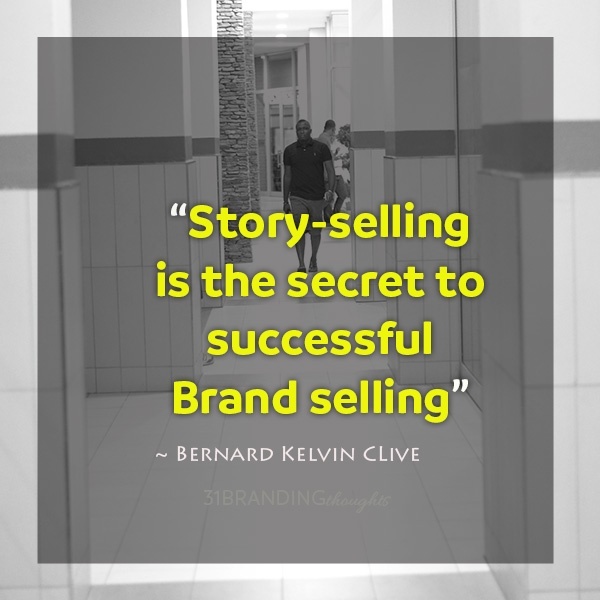 #18 What's your Brand Story? "Story-selling is the secret to successful brand selling" – BKC
Are you familiar with the wits and wisdom from Aesop's Fables? I suppose, yes! Stories that will long live in our memories with its lessons, every brand has a story.
Story-selling is simply the art of using stories to sell the brand, instead of just promoting the brad's products and services. The focus is using stories that consumers can relate with and desire more.
Do you know the story behind 'Cocoa-Cola'? The Story of Steve Jobs and Apple, the story of Captain Amoabeng and UT Bank, Ghana, The Story of Mensa Otabil of the International Central Gospel Church(ICGC), etc
Since ancient times, history has always been captured and shared through stories. We can easily recollect stories. Everyone loves stories, and not just any story, but stories that connect with the core of their beings, that which touches their hearts and moves them to act.
Successful brands have used this ancient secret of story-telling to story-sell their brands. You can pick cues from that, what is your brand's story and how can you tell it better?
Your brand story may be different, it could be something little or simple, like how your Wine is prepared, its source, the origin of its name, etc. Do this, get your brand story well written and shared.
For your personal brand promotion, consider sharing your remarkable personal story and you will soon discover how many people will begin to connect more with you. Your story counts!
So, begin to inculcate story selling into your brand promotions and it will fly!
Remember to always create top-of-mind-awareness in the minds of your target market.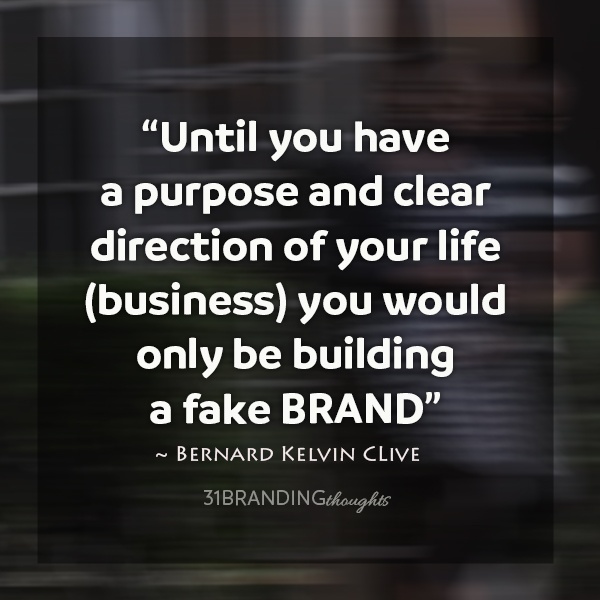 #19 Un-BRAND: Why You Shouldn't Brand Yourself
"Until you have a purpose and clear direction of your life (business) you would only be building a fake BRAND" – BKC
Branding and more precisely personal branding has become a buzz word tossed about every now and then by lots of people.
As much as I'm an advocate for branding (personal branding), I strongly believe that not everyone should BRAND…. Ask me WHY?
To begin with; the reason why you do what you do is the most important question that must honestly be answered before starting out.
Here are some reasons why you shouldn't brand.
– You have no specific purpose for your life and business
– You don't know much about yourself: strengths and weaknesses
– You don't have any added skills
– You want to do it because everyone is doing so
– You want to be famous
– You want to prove that you too can brand
Anyone who starts branding based on the reasons stated above will be on the verge of failure eventually. In the sight of men, you may be celebrated as successful per your brand, but because your brand was built based on the wrong reasons; not built with a clear sense of purpose and direction, its foundation will be shaky and eventually it will collapse and fade out.
Finally, before you brand, get some education – your 'why and how' if not, don't brand!
Remember at the end of life you will give an account of your life to the Almighty God – giver of life, do the master's will, live to please Him!
Go, make your brand count!!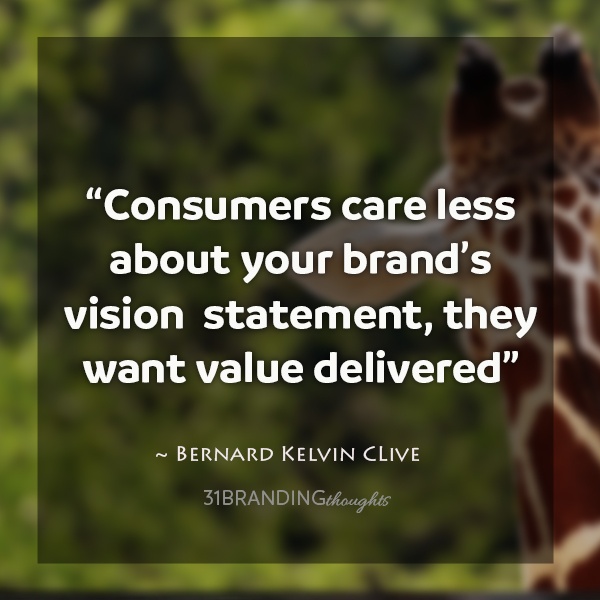 #20 Your brand Mission "Consumers care less about your brand's vision statement, they want value delivered" – BKC
Isn't it ironic to find out that majority of company staffs do not know what their brand's vision and mission are?
Let's face it.
People don't really care about your brand values, mission, and vision. What consumers really care about is (are) their needs and wants being met by your brand. Simple!
Having a vision and mission for your brand is great, however, the most important thing for consumers has always been, how you translate the vision and mission into service- That is simply delivering on your promised value.
Your vision and mission are guides for your internal use as a company; use that to achieve your set goals.
In one word, just DELIVER!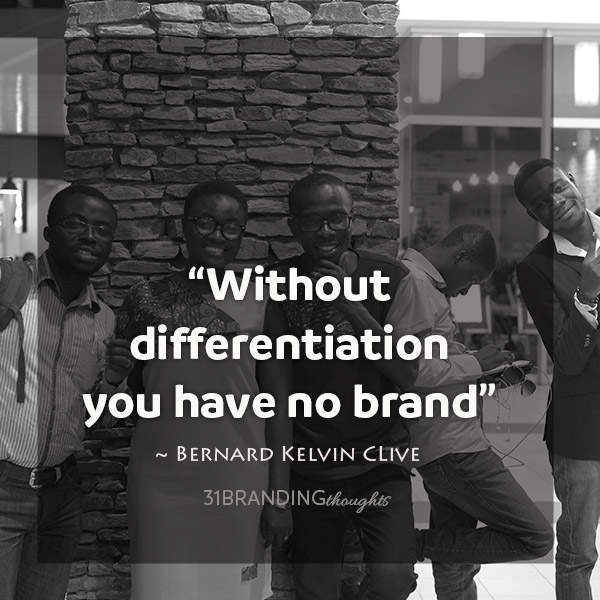 #21 Differentiation "Without differentiation you have no brand" – BKC
Branding boils down to differentiation.
What is it that differentiates your brand from others; your differentiation factor will be your selling point to position your brand in the mind of consumers.
You will agree with me that there are too many similar products and services offered out there by many brands. Beyond your brand's identity; logo, color, tagline, values, products and services, what makes your brand different?
Question to ponder: why do you do similar stuff like everyone does, yet you want to be different?
Here are few ways to consider differentiating your brand:
– Pricing: either low price or high competitive pricing
– Product packaging; make it reusable or biodegradable
– Flavor: Make available, different flavors
– Niche: focus on a specific small market
– Delivery: offer free delivery
– Premium quality
– On- demand product and services
– Align your product/services to a worthy Cause
Now, it's time to make your brand stand out – don't only be different, make a difference!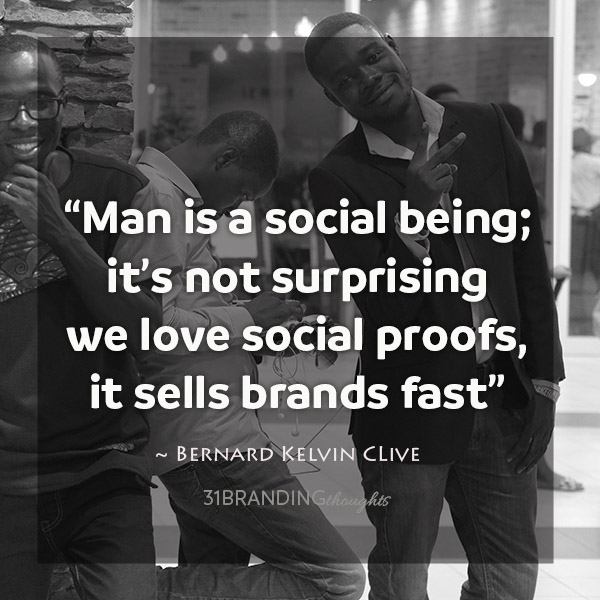 #22 Social Proofs "Man is a social being; it's not surprising we love social proofs, it sells brands fast" ~ BKC 
Customers are becoming well informed about brands now more than ever before. This is due to the advancement in technology and the use of social media. Before a customer walks into your office or purchase a product or service online, they might have read a lot about it online and asked friends opinions on it. This goes to prove the effect of social proof: people tend to believe what they are told about brands than from brands themselves.
It's like this: if my friends are using it, then it might be good for me, or if lots of people are recommending it, then I should go for it. The purchasing decision is made half-way before contacting the shops to buy; because they have been influenced by the choices, reviews and recommendations by others online.
Brands that understand the psychology of social proofs used it to their advantage. How can you also make the most of social proofs for your brand? Here are a few ways:
– Ask for reviews and testimonials from people
– Reward those who leave positive reviews about your brand.
– Ask permission from customers to share their reviews, screenshots and videos of them talking positively about the brand on your websites and social media pages.
– Make use of the endorsements of experts in the field to boost your brand
– Use a celebrity to endorse your brand
– Get social influencers to talk about your brand
The science of social proofs has always worked and it will work if one learns how to implement them. Begin today!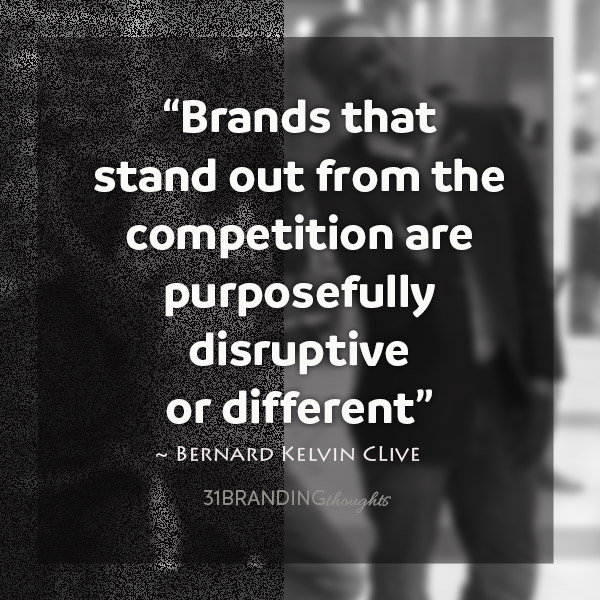 #23 DICE? "Brands that standout from the competition are purposefully disruptive or different" – BKC
To stand out from the masses with your brand be disruptive, different, or you die. Over the years I realized that startup brands that are doing exceptionally well had in a way mastered what I call the D.I.C.E. strategy in branding.
They are
– Different
– Innovative
– Creative
– Excellent
They D.I.C.E on purpose; doing things differently from their competitors, with distinctiveness, innovation, and creativity with a hallmark of excellence. These are the things that propel brands to great heights of visibility and prominence.
To put all this together in a proper perspective I selected 7 Startup Brands Doing Things differently that you can study and be inspired by their works.
Here are some Ghanaian owned Startup Brand's that differentiate their products and services from the masses, using creative and innovative ways, in their various markets.
My Pick for this week:
1. Maza Health: amazingly helping with health transportation in remote areas in Ghana to save lives.
2. CREO concepts: Telling the local story with animations. Graphic and animation firm, popularly known for their creative 'Day Born's cartoons' on Social Media
3. KokoKing; They simply professionally and hygienically packaged the everyday local 'Hausa Koko'
4. Waakye-On-Wheels (Cookhouse): Simply made delivery of delicious 'Waakye' exciting and fun.
5. UTAMA: creatively make hand-made Bow-Ties & Flying-Ties from African print materials
6. AgroMindset: Simply made farming attractive to the youth while making money
7. Tress App: lovely app that helps women to share and discover new hairstyles.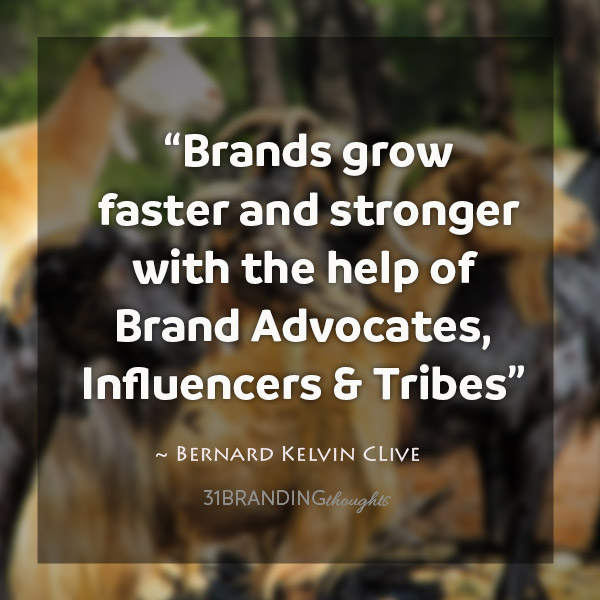 #24 Brand Advocates "Brands grow faster and stronger with the help of Brand Advocates, Influencers & Tribes" – BKC
How to grow your brand with influencers and advocates
Brands don't grow automatically, it requires deliberate brand Strategies. Think of all the popular brands you know of in various niches and globally, they are intentional about their brand's expansion.
No matter the sphere of influence of your brand, to grow it in this age will require some brand influencers and advocates.
Brand influencers and brand advocates can be likened to paid media and owned media.
A quick look at the differences between advocates and influencers:
Brand Advocates; are usually people who love your brand for their own reasons, they are not paid to recommend or promote your brand; they do that on their own accord. May not have large following on social media but can influence others in their own way. Mostly become lasting loyal to the brand and raging fans. They are sometimes paid or rewarded for their efforts.
Every brand with the desire to grow must gradually build brand advocates.
Brand Influencers: could be celebrities, bloggers, people with large following and influence in society. They are usually paid to promote brands. May not be totally be committed to the brand. Often a short period as they are contracted by brands they promote it. They mostly help with brand visibility.
The best blend would be to have an advocate who is very influential, with this your brand will have a great potential of promoting the brand.
Here are few ways you build your brand advocates:
– identify people who regularly engage with your brand, online or offline
– people who offer suggestion & solutions to better the brand
– people who genuinely talk about your brand, wear your brand and recommends your brand
– People who frequent buy your brand.
Reward such people, encourage them and engage with them more often. When you make them feel special they will continually do business with you and promote your brand in your own way.
"Every growing brand thrives on brand influencers and advocates"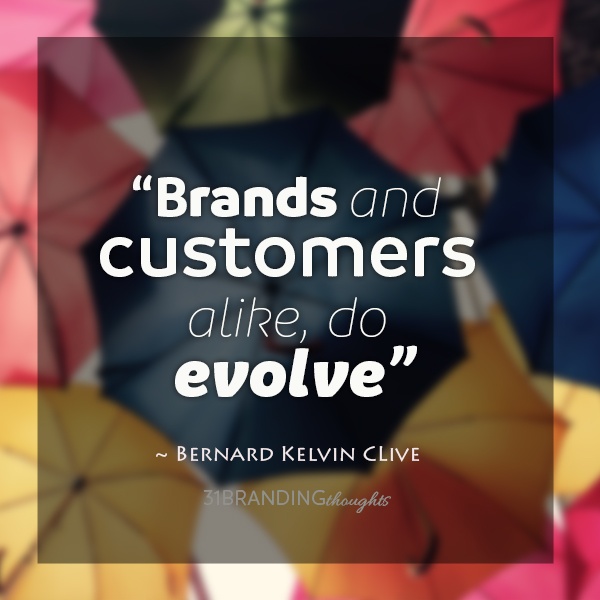 #25 Brands Evolve "Brands and customers alike, do evolve" – BKC
Your brand may need to undergo many phases of change, don't be afraid, so will your customers. It is said that the only constant thing is change. It's all to ensure you have a remarkable product and service that constantly meets the changing needs and demands of consumers.
Take a look at the Coca-cola (company) bottle evolution since 1899 till date; in all the changes the taste of Coke hasn't changed that much, has it? However, they have been able to serve their various markets while evolving and growing
Successful brands over the years have evolved in many ways but still staying true to their core values to ensure efficiency. Sometimes brands forget that consumers do change, their taste and interest change over time. So, there is the need to learn to adjust and grow your brand to meet the ever changing needs of your clients.
Remember: Just be adjustable and adaptable to change. Evolve gracefully!
Bernard Kelvin Clive:BKCConsulting – www.BKC.name/consulting