Solution to why your Website is not bringing in CUSTOMERS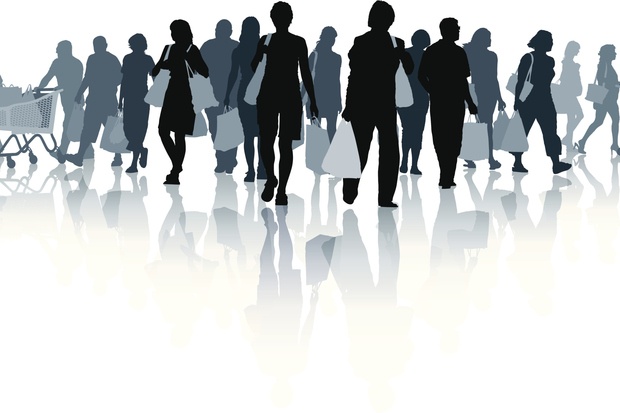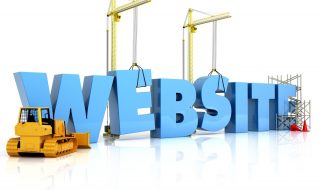 It is a very good thing to see many companies now having website (digital store front) to present their brand. Even though, there are still a greater number of companies especially in a developing country like Ghana (West-Africa) where I come from who don't have a website, it is important to look at the real and unanswered question of whether the fortunate ones who have websites are generating any bankable results; sales, brand awareness, customer retention/loyalty from their websites.
At least, in my field of being a young digital entrepreneur, I have provided over 20 websites for companies and through my interaction with these companies about the need to have a website, some believe getting a website is good, it gives them the psychological boost that they are a serious company whiles a great number of them think otherwise. Those who think otherwise believe having a website is of no value if you are not getting any benefit in terms of new customers/clients from the website.
And I believe if you are marketing director, C.E.O. Of a company/business, owner and you are reading this, you may also ask yourself the benefit in terms of; sales (customers), brand awareness, customer retention/loyalty that you have gained from your company's website. Are the results bankable enough?
Nonetheless, there is still a way to generate bankable result; sales, brand awareness, customer loyalty from a business website which I am going to share for your usage.
To begin with, one cannot generate sales, brand awareness, and customer loyalty from a business website without understanding inbound marketing and the principles behind it.
INBOUND MARKETING is the process of Attracting strangers to your website and turning them to visitors, Converting them in to leads, Closing leads to customers, and finally Delighting your customers to become brand advocates/champions, evangelists or promoters of your brand or product. With inbound marketing, you don't just create a website and end it there.
Attracting: With inbound marketing you will attract strangers to your business website to be turned into visitors by undertaking the following steps:
Blogging; adding a blog to your business/company website will make it easy for any company or business to attract strangers to your website and turn them into visitors. With this , you must create and share contents in the form of articles, blog post, e-guides, info-graphics that educate your prospects about your products and services, answers their questions, motivate/entertain them, address their needs and challenges, and finally share industry news/insight.
Expert Tip: Creating of a buyer persona template and content marketing plan/blog editorial calendar will make it easy for you to identify the needs and challenges that your prospects faces, and also to determine which content type and format will best fit them and when to post those content, how to reach and amplify those content.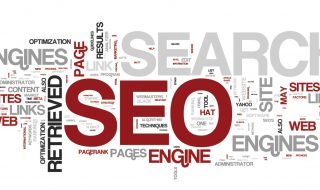 Search Engine Optimization (SEO): SEO is the process of improving your business website so that it attracts more visitors to your website. The main purpose of SEO is to make sure your business website (digital store front) is appearing in the various search engines (Google, Yahoo, and Bing) for potential customers or prospects to find you. Optimizing your business website search engines especially Google which is a very necessary pill because most searches happen in the various search engines. Search Engine Optimization can be divided in to three ways;
Local SEO: Local SEO is the process of making sure your prospective customers find information about your company online including the times and days you work, direction to your office, preview of your working environment etc. For many this is all that they may know, but local SEO also have a great impact in making your company rank well in Google which have a greater impact in driving huge traffic back to your website. Local SEO result of any company will pop up in Google search engine, when prospective customers search specifically for your company or any business that provide particular goods or services that relate to yours. Other forms of local SEO may be to list your business on Yellowpages.com, ghanayello.com, but for better and instant result, I would recommend using Google Local SEO. Below is a picture sample of a local SEO result I am currently working on for a client.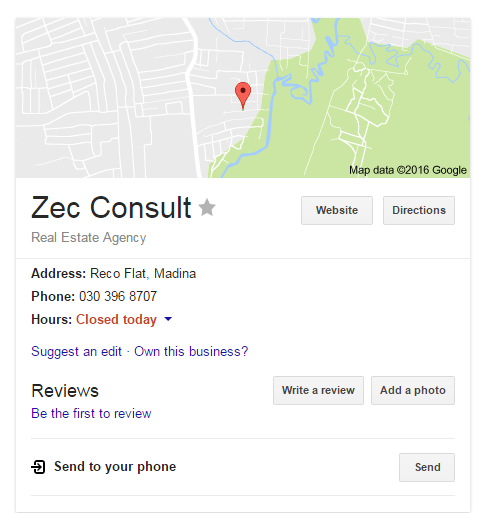 Expert Tip: Local SEO when not done well may hurt your company, as your company maybe misrepresented online which can create mistrust, and also damage your brand through negative or bad reviews.
On Page SEO: On page SEO when not done well as part of the overall search engine optimization strategy can prevent your business/company website from ranking well in Google which will reduce the rate at which you attract strangers to your website in the Google search engine. On page SEO deals with content quality; how good are you in writing quality content that motivates/educate your prospects, address their needs and challenges etc. With this your need to hire very good content writers to create and curate quality and evergreen content. Large size companies may use their PR/Marketing Communication department to do such job or outsource it to a full scale inbound marketing agency. It also includes how well you optimize your url and page titles, heading tags, meta tags, Alt tag, and also include keyword optimization.
Expert Tip: Keywords are words or phrases that you place in your website content that make it possible for people to find your website via the search engine. The keywords you use must relate to the core of the content/ business you provide Eg. A technology/business blog like goldencitybusinessmag.com (GCBM) may use keywords like GCBMnews GCBMtechnologynews breaking news in Ghana, etc.
Off Page SEO: Off page SEO deals with generating /building quality backlinks/inbound links towards your website to make it more searchable online. Backlinks plays a role in making your business website appear higher in Google and are built when you link your company web page to another website. The picture below describes exactly what backlinks are.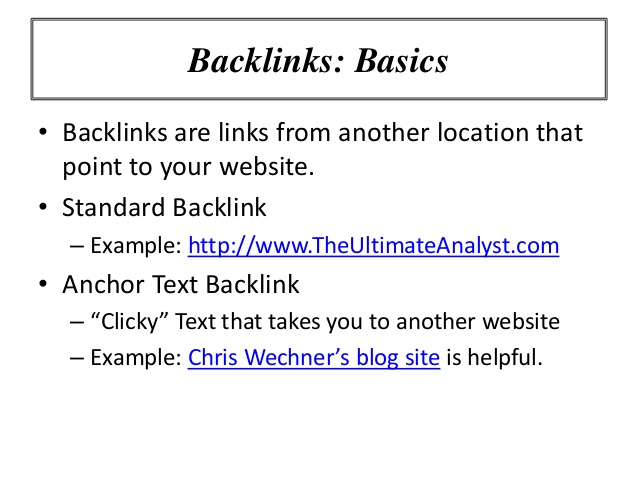 Expert Tip: When linking your website to another, it's always important to link to a website with great and educational content, and with higher page ranking and domain authority. Page rank determines the quality and quantity of links to your web page and scores on a 1-10 scale to determine how well your web page or site rank in Google. Domain Authority is the measure of the power of a domain name and how well a given domain will rank well in Google.
Social Sharing: Social sharing plays a major role in off-page SEO which falls in your SEO strategy. Social sharing is the act of sharing content from your website across social media platforms; Facebook, Twitter, LinkedIn… to drive social engagement with your prospect, and website traffic. Sharing content from your business website across the various social media platforms has a great impact on SEO and plays a major role on how good your website get ranked in Google.
Converting: Once you have attracted strangers and turn them into visitors, the next step is to convert them into leads by generating their contact information; phone numbers, email address. The main purpose of generating leads is to nurture those leads to be customers of your products. You can generate leads by offering your website visitors VALUABLE content in the form of How to do guides/tricks, product discounts/promotions. Eg. A financial institution can prepare a free-eguide on how to get a loan for your business within 12hours or 12steps in managing your personal finance like an expert. Because your site visitors/prospect sees these guides as a valuable one that addresses their needs, they will be willing to offer their contact information such as phone numbers, name, email address etc. before they can get the guide downloaded/discount offer retrieved. With this you need to set-up and create tools such as
Forms: In order for visitors to become leads, they must fill out a form and submit their information.
Calls-to-Action: Calls-to-action are buttons or links that encourage your visitors to take action, the e-guide on how to get a loan within 12 hours. NB: If you don't have enough calls-to-action or your calls-to-action aren't enticing enough, you won't generate leads.
Landing Page: When a website visitor clicks on a call-to-action, they should then be sent to a landing page. A landing page is where the offer in the call-to-action is fulfilled, and where the prospect submits information that your sales team can use to begin a conversation with them. When website visitors fill out a form on a landing page for the first time, that visitor becomes a contact that the sales team in your company can use.
Expert Tip: In order for one to generate leads, you must be able to offer compelling content, product discounts, anything that your prospect will see it valuable. With this quality and thought provoking content is king.
Closing: Now that you've attracted visitors and converted them into leads, there is the point to close those leads in to customers. How well you are able to closes these leads to customers will depend on the usage of these tools/techniques:
Customer Relationship Management (CRM) system: CRM helps you to keep track of the details about all the contacts, companies, and deals, and also help your company get in touch with the right prospects at the right time. Customer Relationship Management (CRM) systems facilitate sales by making sure your sales team have the right information needed to better engage with prospects.
Close Loop Reporting: Closed loop reporting in inbound marketing simply means the sales team in your company reports to the marketing team the result and the progress of the leads they have gathered and also help marketing determine their best and worst leads. The purpose of this is to also align the sales and marketing team in your company with the main aim of converting leads generated in to customers.
Expert Tip: Integrating it with your CRM system allows you to analyze just how well your marketing and sales teams are playing together.
Email: Having an email system in place for your website present a great opportunity to nurture leads generated. Lead nurturing involves emailing a series of relevant and useful content that address the needs and challenges of your prospects, issues product discounts/company or product news, to prepare them until they become customers of your products. Indeed with inbound sales/ normal off-line sales, converting a lead to customers can sometimes run into months.
Expert Tip: Use marketing automation to email content to a lead based on his movement on your website. Eg. You may email content about savings to a lead that usually views pages about loans on your website. Such data about the actions users/visitors take on your website can be obtained through the use of cookies.
Delighting: With inbound marketing , turning a website visitor in to a customer don't end there. You need to consistently address their needs and challenges, motivate/inspire them through quality content. The more you address the needs and challenges of your customers, motivate, educate and inspire them, issue product discounts, introduce new products and features that may be interested to them helps you create an emotional/exceptional experience that build quality trust and relationships that can turn your customers to be brand advocates/champions /loyalist, and evangelist who will contribute to the success of your business by sharing your content, giving positive reviews about your product online and on social media, defending you when you go wrong. Customer delight may also be achieved within the realm of inbound marketing by:
I. Surveys: The best way to figure out what your users want is by asking them. Use feedback and surveys to ensure you are  providing customers with what they are  looking for.
II. Social Monitoring/Listening: Social monitoring/listening will help you keep track of social conversations that matter to you most. Listen out for your customers' questions, comments, likes, and dislikes – and reach out to them with relevant content. This involves you setting up social media monitoring and alert systems to track all conversations about your brand.
Website Analytics: In all this, there is the need to track and measure the result you are getting from your website in terms of brand awareness (website traffic), sales/leads. Website analytics make it easy to gather and analyze data that will help you gain actionable insight. This will involve the use of website analytical tools such as Google analytics, Adobe Analytics (Omniture) and Gosaquared. If you are using Google analytics which is arguably the most popular and easy to use free website analytics platform that I also use you may track, analyze, and measure these data sets/metrics:
I. Traffic Sources: This metric entails analyzing and measuring which sources drive the most and least traffic to your site. They are three main types of traffic sources are typically 'organic search', direct and referral traffic.
Organic search: This term refers to visitors who discover your site after searching a keyword.
Direct Traffic: These visitors come to your site after typing your URL directly into their browser connected to your industry or business name in a search engine (Google, Bing, and Yahoo).
Referral traffic: These visitors come to your site via external links on social media or other websites/blogs.
II. Bounce Rate: This metric analyze the percentage of website visitors who left your website without interacting with it. Tracking this metric will help you to investigate and implement strategies to help you reduce the percentage of visitors that leave without interacting with it. The more they interact with your website (Clicking product pages to learn more about what you do, subscribing to your newsletters/downloading e-guides) the higher the chance of converting these visitors in to leads.
III. Site Demographics: Analyzing this metric will help you understand the demographics of your website visitors. Data such as their location, age group, gender, relationship status, educational level etc. can be gathered from tracking this metric. Analyzing data sets from this metric will also help you understand your website visitors, engage with them effectively, and serve them with content that meet their interest.
IV. Conversion Rate: Perhaps this is the most powerful metric to track and analyze. This metric allows you to track the number of leads generated, product purchased etc. Data sets in this metric affect the sales point of your business and will be the major determinant in tracking the number of sales/leads generated you have been able to generate from your business website. In general analyzing the data set from this metric will also help you put out strategies to maximize the number of sales/leads you generate from your website
SEO AUDIT: After all is done, and you are generating leads, and turning them into customers, there is the need to at least do a SEO audit every day, week, month or quarter to really understand how well your website ranks in Google search engine on keywords or phrase that relate to your business. As said earlier, how well your website ranks higher in Google on a keyword that relate to your business determines how well you are able to attract strangers/visitors to your website which you can convert them to leads.
NOTE: A good SEO audit will also help you identify negative search result about your business especially if you've been hit by a negative news and how you can burry those negative results. With this you will need not just an inbound marketer, but an SEO specialist with deep knowledge in online reputation management to help you accomplish such task.
Contributor: Gad Ocran Social Media Strategist email:gadocran@gmail.com