SELF-HELP TO DECREASE DOPAMINE IN USING SOCIAL MEDIA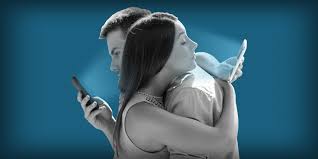 Works and studies I have done  on Emotional Intelligence, Healing of Memories and Nonverbal Communication as well as mind reprogramming (mind hacking) of our brains of  social media and its impact has been revealing and stunning. I have come to the realization that there is a reason why we are connected to people through social media but disconnecting in real life.
Try and leave facebook, Whatsapp, Instagram and other social media and check how many followers or friends will call to really check on you. And compare it to comments and likes you get on your pictures and postings. Even friends who have your contact won't call to even ask  why? Some will only know you have left e.g facebook, Instagram etc only when they cannot find you during tagging. Yet follow up will be minimal.
We seem to be growing fond of people on social media than real world. We have truncated interpersonal relationship and replaced it with social media. All the functions are not for nothing though we can regulate our mind to maximize the positive benefit of social media.
I recently did an article on "why every 21st century CEO or leader must acquire and deploy emotional intelligence" and another short piece on "Ghana threading on dangerous with circulation of gory media". All these two is to awaken us to a certain mindset or reality.
What causes us not to regulate our usage of social media is an addiction just like any form we know due to DOPAMINE. It is a neurotransmitter, a chemical that is responsible for transmitting signal between the nerve cells (neurons) of the brain. It is that chemical which triggers excitement in the face of reward just like how we get excited when our post gain traction, likes, comments, shared, love etc. Dopamine is responsible for you wanting to go and check how your post on facebook or picture on instagram is doing.
Over a period of time it gradually kill the chemical call serotonin in the brain which stimulates true happiness , fondness, belongingness, EMPATHY etc. And you will turn to social media to just be happy, but we all know it is same as drug addiction
When one's organic happiness and empathy is tampered with then I ask  what is there to be human for? How will one deploy EI?  Unfortunately dopamine makes us feel a certain level of ease just as addicts feel when they get the substance to subdue the cravings.
I found this on healthline.com and I hope it will help us increase our serotonin to reduce dopamine.
How to find actual contentment
"In order to up serotonin, you have to dampen dopamine," Lustig pointed out. "That means sometimes disconnecting, which people have a very hard time doing."Lustig came up with the four C's to help people find true happiness, or contentment.
Connect: Connection increase serotonin. This has to be interpersonal, face-to-face connection with eye contact. Anything short of that isn't successful, Lustig said. The practice works because humans have mirror neurons in the back of our heads that read in real time. "So, when you talk to someone face-to-face, you're adopting some of their emotion. That's called empathy. Empathy drives serotonin," Lustig said.
Contribute:  Lustig clarified that the contribution has to impact someone other than yourself. Philanthropy, charity, and volunteer work will boost your happiness.
Cope:  This exercise is specifically to exercise your prefrontal cortex (PFC) and dampen your cortisol, according to Lustig. "Exercise your brain by practicing mindfulness," he recommended. "During meditation, the PFC lights up like a Christmas tree, which is good. You're knocking down some of the (dopamine) highs, but it certainly helps you avoid the lowest lows."
Cook: "You can't make serotonin without it's precursor amino acid, tryptophan," he pointed out. Eat foods high in the amino acid, such as eggs and poultry. Lustig notes that tryptophan is typically unavailable in processed food. It is said that "processed food makes people unhappy eventually. It's a boost of pleasure for sure, but detracts from happiness."
Lustig's most important key to happiness? "Cook real food for yourself and your family"
I believe that with the Cs by Lustig we can all make the best decision to decrease dopamine to aid us master our EI and as well the addiction to social media.
Let's begin to talk more than always chatting and surfing on social media, we need each other no matter how the world is being structured with technology to the neglect of human interaction. Social media for its business purpose isn't bad but because engineers are now using the brain chemicals to lute us to the screen, we need to balance it with interpersonal relationship.
Social media addiction is breaking relationships that has been nurtured over years through hard work and consistency. It is wrecking homes and tearing families apart. Young students are battling studies deficiency because of the hours they spend on all the instant messaging platforms. This article is not against the benefits of social media but seeking to awaken users to a balanced life. It is very important to protect your children from social media until they are off age. Don't profile kids all in the name of excitement, it puts them in danger to criminals and pedophiles. Ask your self, why is that you are protective of your children in the bonding world, sometimes to the extent the you warn them not to play with others, or prevent them to be carried and curdled but you are quick and full of excitement to  post their pictures for likes, comments, love etc.
Don't underestimate the danger of dopamine due to social media.
Stay healthy with social media.
GCBM Contributor: Scofray Nana Yaw Yeboah
Transformational Coach| Certified Professional Trainer| Author | ConsultantLead Facilitator for Zoweh Global Consult
Contact
Email:scofray@gmail.com
Twitter: @scofray
Instagram: @scofray
Page: Facebook.com/scofray
Cell:(+233)0243085932
About Scofray Nana Yaw Yeboah
He was born on 13th September 1980 in Adweso a suburb of Koforidua the Eastern Regional capital to late Ebenezer Yaw Otu and Madam Victoria Abena Kwakyewaa. He hails from Akropong Akuapem also in the eastern region but had his basic education at Adweso St. Dominic's Catholic School where he obtained his B.E.C.E in 1995.
He had his secondary education at Koforidua Sectech in January 1996 and completed December 1998 and currently the old students' president of his alma mata.
He studied microcomputer technology and electrical-electronics engineering with City & Guilds Institute of London and also a certified professional trainer by IAPPD – UK
He has over 12 years of experience as a Transformational Coach, Media Analyst, Brands Expert, Corporate trainer, Healing of Memories Practitioner and an Author.
He has been listed twice among Most Influential Young Ghanaians in 2015 and 2016 respectively and   was a nominee for Africa Youth Award's special recognition category in 2016.
He is one of the highly sort after resource person in the Ghanaian media landscape and the lead facilitator/Consultant for Zoweh Global Consult a human capital development entity.
He doubles up as lead trainer and President for SLIT Africa an NPO based in Bloemfontein South Africa