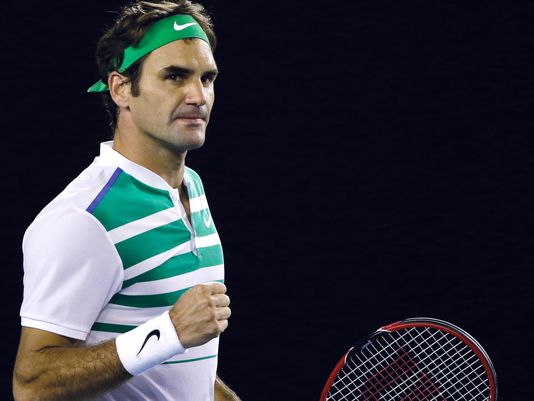 He was only four when his mentor Boris Becker won his first Wimbledon title in 1985. The love impulse run through his veins and sticked. He glued himself to the television to watch tennis matches.
And at a Wimbledon in 1998, a 17-year-old youngster blew the air and his words echoed into the ears of spectators at the court to catch a glimpse of the grand finale. With elegance, he matched on to the grace and won both the boys' singles final over Irakli Labadze, and in doubles teamed with Olivier Rochus, defeating the team of Michaël Llodra and Andy Ram.
And just about 16 years after his first Grand Slam event, he's won his 300th match, becoming the first man to reach that mark, trailing only Martina Navratilova, who won 306 matches at the highest level of tennis.
Federer, 34, the Lionel Messi of tennis oozes class and he's been labelled the best the tennis player of all time by most commentators who had the opportunity to sit behind the mic to run commentary as he guard his territory to victory.
The Swiss has dominated the court for the past decade and has been consistent in the best 10 tennis stars in the world. Currently, he's ranked 3rd in the world.
With 1000 career match wins already, Roger Federer has written his name in the pantheon books, but he bettered that with a 300th grand slam victory on Friday. Who wouldn't be excited to be the first man ever to achieve the greatest of feats in the game?
"It's very exciting, I must tell you. Like when I reached 1,000 [career match wins] last year, it was a big deal for me," Federer is quoted by the NPR after his four-set win over world No. 28 Grigor Dimitrov at the Australian Open.
"Not something I ever aimed for or looked for, but when it happens, it's very special."
Roger Federer swims in the pool of records, and his 300-win mark is milestone that adds up the two other records he holds: He's won 17 Grand Slam tournaments and reached 27 finals. The figures shows the command the 34-year-old bosses in the court.
Roger Federer's 300 wins include two record stretches in which he was unbeatable – be it in majors or other tournaments. From 2003-2008, he won 65 times in a row on grass, and in 2005-2006, he won 56 straight matches on hardcourts.
Reminiscing his days of old when his career began, Federer wished he never made mistakes but he believes they made him the Federer of today.
"I wish I could have maybe been tougher when I was younger in practice, but I guess that's just how it needed to be. It needed to be genius or horrible," he said, according to the tournament's website.
"I needed to have that wide spectrum. I needed to make mistakes to become the player I am today. In a way I would do it again the same way, with just some minor adjustments along the way."
The grin today is an image created from childhood, and it defines love can drive an individual to the apex of his career.
Muftawu Abdulai Nabila